How Real Estate Agents Can Profit from Today's Rental Market
Rentals Can Provide a Valuable Source of Side Income for Agents. Here Are Tips To Help Master the Real Estate Rental Transaction in 3 Steps.
The combination of inflation, rising interest rates and record-low housing inventory has not only affected home values; it's also helped push rents to record highs.
In April 2022, U.S. single-family rents reached a record high, soaring 14% higher than the previous year, reflecting the fastest YoY growth in 16+ years, according to global analytics provider Corelogic.
Although the gains in rent growth have slowed since their high point in April, U.S. single-family rent growth still registered 12.6% YoY in July.
Florida's Miami and Orlando continue to lead the charge while San Diego and Atlanta tied for third in metro cities posting big gains.
Migration from the Covid pandemic has played a large role in the rent surge. Even millennials, who are earning higher incomes and primed for buying their first house, are still renting due to the steep cost of entry into homeownership. In fact, the number of rental applicants who earn more than $50,000 a year is at its highest mark in five years, according to property management rental site RentCafe.
For real estate agents, property rentals might be viewed as competition to homebuying – or could it be an opportunity to hedge against a potential real estate market downturn in homeownership?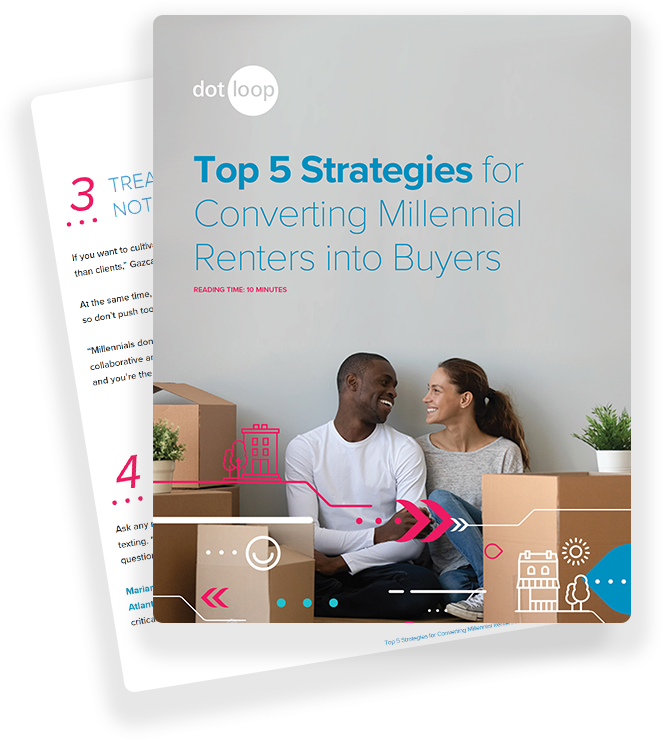 Downloadable eBook: Top 5 Strategies to Convert Millennial Renters into Home Buyers
Download this free eBook to discover industry insider strategies for converting millennial renters into buyers.
Hedging Against a Market Downturn with Real Estate Rentals
Why should real estate agents who have always worked in buying and selling real estate consider rental placements?
One, rentals often lead to sales on the listing side and clients on the buy side. No one is in a better strategic position to capitalize on these relationships than a real estate agent working both rentals and sales.
Also, when a housing market starts to slow, rentals can protect against a potential downturn by providing a reliable source of income for agents. The effect can be cumulative: The more you show rentals and connect with potential renters and landlords, the bigger your database becomes, making it increasingly easier to place tenants while growing future sales contacts among landlords.
More homeowners are renting out their properties in different geographic locations due to a move or an investment, and they often turn to their agent for advice and referrals.
Real estate rentals can provide a good source of side income with low overhead. Typically, agents can expect to receive a fee commensurate to about one month's rent, a percentage of the annual rent starting at around 10% or a flat fee, according to RentSpree.
If you're already selling lots of income properties or have access to new owners looking to fill their homes with tenants, real estate rentals may offer a prime, previously overlooked source of additional revenue.
3 Steps to Help Master the Real Estate Rental Transaction
Many real estate agents are the masters when it comes to creating a compelling rental ad, having plenty of practice writing descriptions and arranging for photography of real estate for sale. While the skill set remains largely the same, the delivery vehicles may differ.
As with real estate sales, you'll want to first create a rental ad description that captures the attention and prompts action. Click here for tips on writing a great real estate listing.
You'll also want to include high-quality photography with at least 10 images showing both the interior and exterior of the house. Zillow Rental Manager is a great way to gain widespread exposure for a rental listing.
Also, social media channels, including Facebook Marketplace and Instagram, offer high-engagement platforms that can be particularly helpful. In the post, the agent's contact information should be made accessible, including a phone number, email and hours of operation.
Also, be sure and list the rental's key amenities, including whether it contains an in-unit laundry, a popular amenity among all ages of renters, according to Zillow.
Your website offers a great opportunity to cross-market rentals with buying and selling clients, while online classified ad sections in local newspapers may be worth exploring, especially in small towns.
According to the 2019 Zillow Group Consumer Housing Trends Report, 69% of renters expect to hear back from a landlord or property manager within a day of their initial communication. Busy agents may find it helpful to dedicate time in their day to rentals. By setting aside time to attract, screen and show potential tenants properties will help ensure prompt communication and quick action.
If scheduling individual showings, it's best to schedule 15-minute appointments about 30 minutes apart to avoid overlap.
If scheduling a one-day open house, just keep in mind that open houses can sometimes discourage renters due to the competition and lack of personalized attention. Be sure to state a specific time versus a large window of time to create a sense of urgency and avoid a last-minute rush.
Sending open house visitors a text or email reminder, including the day/time of the showing and a link to the application, can help kick-start the screening process. Pre-screenings can help sort those who don't meet the criteria, such as indoor smokers (if prohibited), pet owners with a dog that exceeds the weight/size allowance or those who can't work with the move-in date. Also, don't forget to set out paper rental applications or a tablet with Internet at the door for those who can't access or forgot to fill out the paperwork online.
If there are tenants still living in the home, it's best to try and schedule any showings when they won't be home (incentivize with a small gift card or give them a break on one month's rent), and make sure they've been primed on cleaning the property before the visitors arrive. Additionally, you'll want to check with the state's landlord and tenant laws and consult with language in the lease agreement, which may regulate required notice times. Some require agents to give a one- to two-day notice before entering and showing the property.
Before and during the showing, ask each of the prospective tenants the same questions to help narrow the applicant field. Some helpful questions include:
What is their current living situation?
What are they looking for in a rental property?
Why are they moving?
When do they plan on moving?
What is the earliest they can move in?
Do they have pets?
Will they have roommates?
As with home buyers, agents need to comply with fair housing laws with renters. An applicant cannot be rejected for race, color, religion, national origin, sex (including sexual orientation and gender identity), familial status or disability. Additional state and local protections may also apply, including the applicant's source of income used to pay the rent.
Busy landlords are always in need of someone to collect applications and screen tenants for background checks, credit checks, any eviction history and income verification. This step can be the most time consuming and tedious, but it's also the most important one to ensure no costly details are lost in the span of a tenant's occupancy.
In addition to attracting renters to your ad, Zillow Rental Manager can assist with renters' applications for a nominal fee ($29) paid by the applicants when they click and apply directly from a Zillow rental listing.