Jeff Cohn Q&A: How to Build and Scale a Real Estate Team
Discover the Winning Formula for Real Estate Teams Success From One of the Industry's Premier Experts
While a year ago, it was common for 10 people to make an offer on a single house, today's market looks much different with rising interest rates, new construction delays and supply chain issues continuing to challenge the industry.
In this Q&A, Jeff Cohn, Founder and CEO of kwELITE with Keller Williams, discusses his formula for building and scaling a real estate team in today's market.
After graduating from the University of Nebraska, Omaha, with a business degree, Cohn says he acquired his real estate license and started selling houses in 2006. By 2011, he was netting about $350,000 a year and working 80 hours a week but living "a horrible lifestyle."
Cohn realized there was "a better way" to generate more revenue while spending less time and less energy. He found the solution in leveraging teams.
For Cohn, the first hire of any team should be the transaction coordinator. He says by hiring a transaction coordinator at $15-$25/hour, the agent, who's making $50 an hour, will typically make more money by hiring this position and freeing their own time to spend on more revenue-producing activities.
"For the past 10 years, I've been obsessed with firing myself and putting myself in roles where I can generate more revenue with less time and less energy," says Cohn. "It's also our goal to help our agents make more money with less time and less energy and help our clients generate more profit with less time and less energy."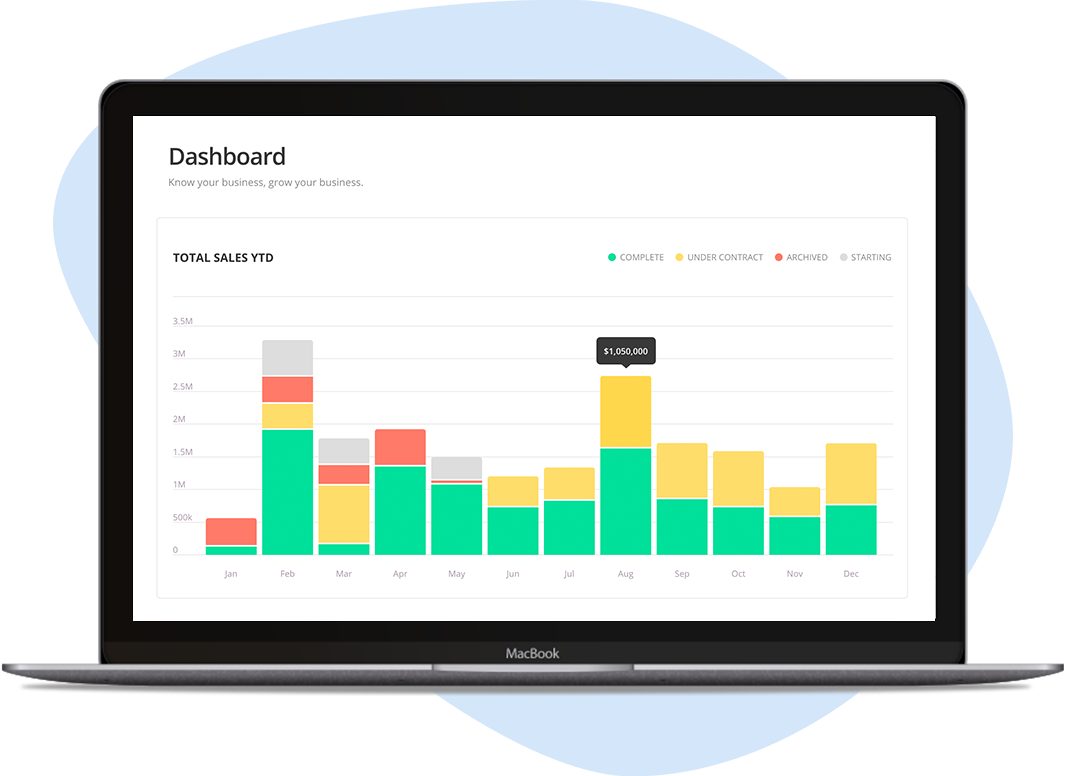 Part of a Real Estate Team?
Dotloop for Teams empowers over 2,000 teams with custom transaction templates, automated compliance, reporting and more. No more sharing login information.
In 2011, Cohn visited more than 100 real estate offices across the U.S. and started recognizing patterns in real estate teams. One of the patterns he saw was people "got stuck in the three digits," either doing 250 or 550 deals over the last 10 years without any significant growth.
A second pattern was profitability. "People got bigger in size, but they were losing money and didn't understand why," Cohn says.
To resolve these common challenges, Cohn says agents need to identify their "why" for building a team – whether it's to lead and live a better life or to help others become a better version of themselves. Whatever the reason is why you're in real estate, it's going to be harder when agents try to handle all the roles themselves, he says.
"There are times when you have to be the listing agent and the success manager and the operations manager and the sign runner and the marketing person all at the same time, and that's the friction and the pain you have to feel before you find your replacement and find success on the other side," he says.
After working 80 hours a week, Cohn realized the value of hiring agents and empowering them with tools like dotloop for Teams.
Over the course of 12 months, Cohn recruited six agents and went from 70 deals in 2011 to 240 sides in 2012. The team discovered a direct correlation to growth – not by expecting agents to double their sales – but, rather, in the number of agents that they hired.
"People think that the solution is having the agents double their sales. While mathematically that makes sense, in reality, it's impossible. Agents aren't going to double their sales overnight. They might increase their sales by 10 to 20 percent," Cohn says.
The next year, Elite doubled their agents and went from six to 12 and scaled from 240 to 425 sides. Today, the kwELITE team has almost 200 agents transacting 2,500 sides with half a billion dollars in sales.
In general, Cohn believes teams should be paying about 70% of gross commission to agent commission, keep 20% in net profit and pay 10% toward overhead, which can be offset by brokerage fees.
He says the tech stack and training have played a significant role in his team's success, with dotloop for Teams being at the center of that success.
"As the team started getting bigger and we started doing more transactions, we knew we couldn't manage all that inside an Excel spreadsheet. That's where our relationship with dotloop exploded," says Cohn. "Dotloop was beta testing the dotloop for Teams product, and it allowed us to be empowered as a traditional brokerage would be when it came to managing the transactions. If you're going to build and scale, you have to do it with profit."
To Cohn, "failing forward" means failing and then solving the problem, and maybe even failing again, but recognizing that with each failure, you're further along. Like a relationship, 'failing forward" helps you become closer to someone.
"It's the same thing in business," Cohn says. "If your first transaction coordinator doesn't work out, it doesn't mean that having a transaction coordinator isn't the right move. It means that you hired the wrong person or trained them wrong or held them accountable wrong or all of the above."
Of the hundreds of teams on Elite Real Estate Systems' coaching platform, Cohn says "anyone on the dotloop for Teams product never stops using it. It's the best. It keeps your business organized," he says. "If I knew I had a place to check the file, and there was a systematic way where my transaction coordination team could report to me every week or every day with how many files they had taken, how many are pending, how many are closing and we could jump in and do an audit at any point and it's all on a cloud-based system, it helps me have way more transparency."
As Cohn points out, it's not a question of whether you should be using a transaction management platform, it's "Which one is the best one out there?"
"We've tested several platforms for eSigning and transaction coordination, and we have found dotloop for Teams to be the best," he says.
If you're running a team and you have 10 agents each with their own Facebook page, you want to make sure what they're posting is compliant, and the brand is marketed consistently across all the pages.
"The truth is the agent's time should be spent in the highest income-producing activity, which is 90 percent prospecting and 10 percent serving the client. The rest can be done by a $15-$30/hour employee. Anything and everything inside dotloop, other than signing contracts, should be done by an admin person," says Cohn.
Imagine all the pain points that can occur when contracts are missing an estimated cost sheet or signed disclosure. "Dotloop for teams can be set so that it's a requirement that the agent can't even submit the contract until they have every document input inside your parameters," says Cohn. "In and of itself from a compliance standpoint, that was a huge gamechanger for us. That's been awesome for us to have more control and help the agents stay more organized so they can get paid when their commission check comes in."
If done correctly, Cohn says dotloop for Teams will allow team leads to have one admin to transact over 300 deals a year rather than three admin pushing paper doing the same amount of transactions.
"It will save you money from a transaction coordination teams standpoint and provide a huge value add as you go after agents not used to having an in-house transaction coordination team transacting everything for them."
Cohn says many people grow for their ego and not for the right reasons. By knowing your "why" and getting to the "why" of those who work for you is the first step.
"We spend a lot of time building vision boards and putting a key performance indicator attached to the activity they need to do to generate the revenue to be able to live and lead the life of their dreams. Then, we train them to the KPI and then hold them accountable to the KPI, then track the KPI on a daily, weekly, monthly and yearly basis," Cohn says.
Nationally renowned speaker and host of The Team Building Podcast Jeff Cohn is the CEO of kwELITE, a tech-powered Keller Williams market center in Omaha, NE. As Founder of Omaha's Elite Real Estate Group, Cohn led his team from 70 to 700 transactions in six years and was awarded the No. 1 team in unit sales at Berkshire Hathaway HomeServices in 2019. Since beginning his real estate career in 2016, Cohn's team has closed more than 5,000 sales, totaling over $1 billion in volume. Team leads who want to learn more can click on GrowwithERS.com to access a free guide to how to scale your real estate team and more.