5 Ways to Optimize Real Estate Transaction "Loop" Templates
Do it Yourself or Let Dotloop PRO Help You Automate Loop Templates for Faster Transacting
As an admin or transaction coordinator, do you often find yourself hunting for the documents that you need when it comes time to review? Are your agents challenged with locating certain documents they need to share with clients?
Maybe your real estate team deals in different states, counties or regions that require different sets of forms.
If you answered yes to any of the above, you will want to optimize Loop Templates, an easy way to pre-package all the documents needed in a given transaction type. Loop Templates cut out the busy, repetitive work of searching and grouping required documents for each transaction, thereby saving agents, admins and transaction coordinators significant time.
When you log into the dotloop dashboard for the first time, you'll see five templates:
Listing Lease Loop
Leasing Loop
Buying Loop
Listing Loop
Staff Only – Agent Onboarding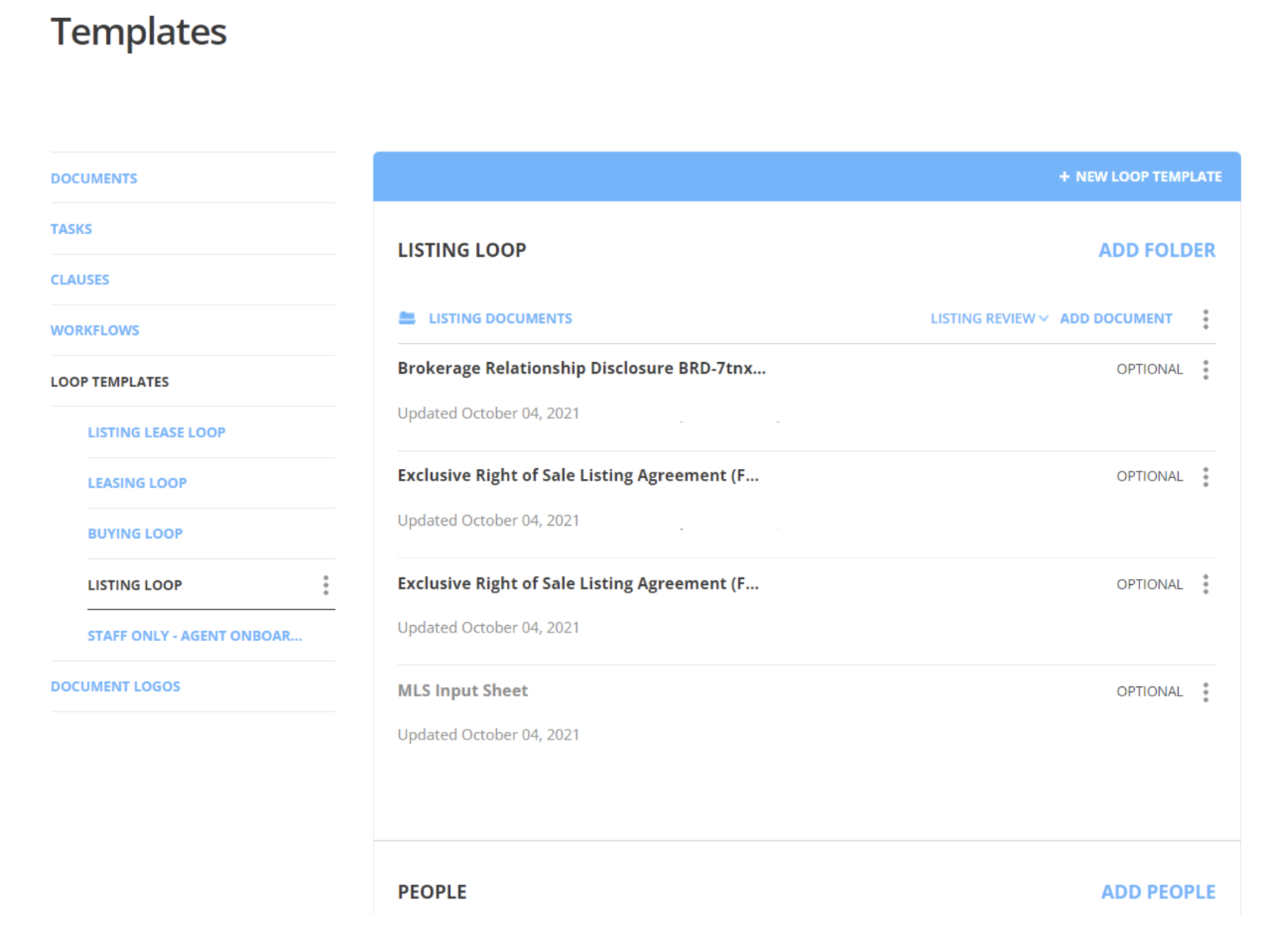 These templates contain a basic build of documents and placeholders from your association. Loop Templates allow dotloop Business+ and dotloop for Teams admins to control the people, documents and tasks lists by auto-adding them when the loop is first created. Admins and transaction coordinators can dictate which information and documents are needed before the agent can submit for review.
Loop Templates can be customized in any number of ways. For instance, if you're listing a house built prior to 1978, rather than hunting through your folders for a lead-based paint disclosure, a pre-set Loop Template: "Listing for Sale: Pre-1978" would give you immediate access to that disclosure, right next to your Exclusive Right to Sell contract.
5 Tips To Help You and Your Real Estate Team Get the Most Out of Loop Templates
Within the Loop Template, documents can be split up between folders to help group similar types of documents or documents needed at a specific interval in the transaction based on the submit for review sequence: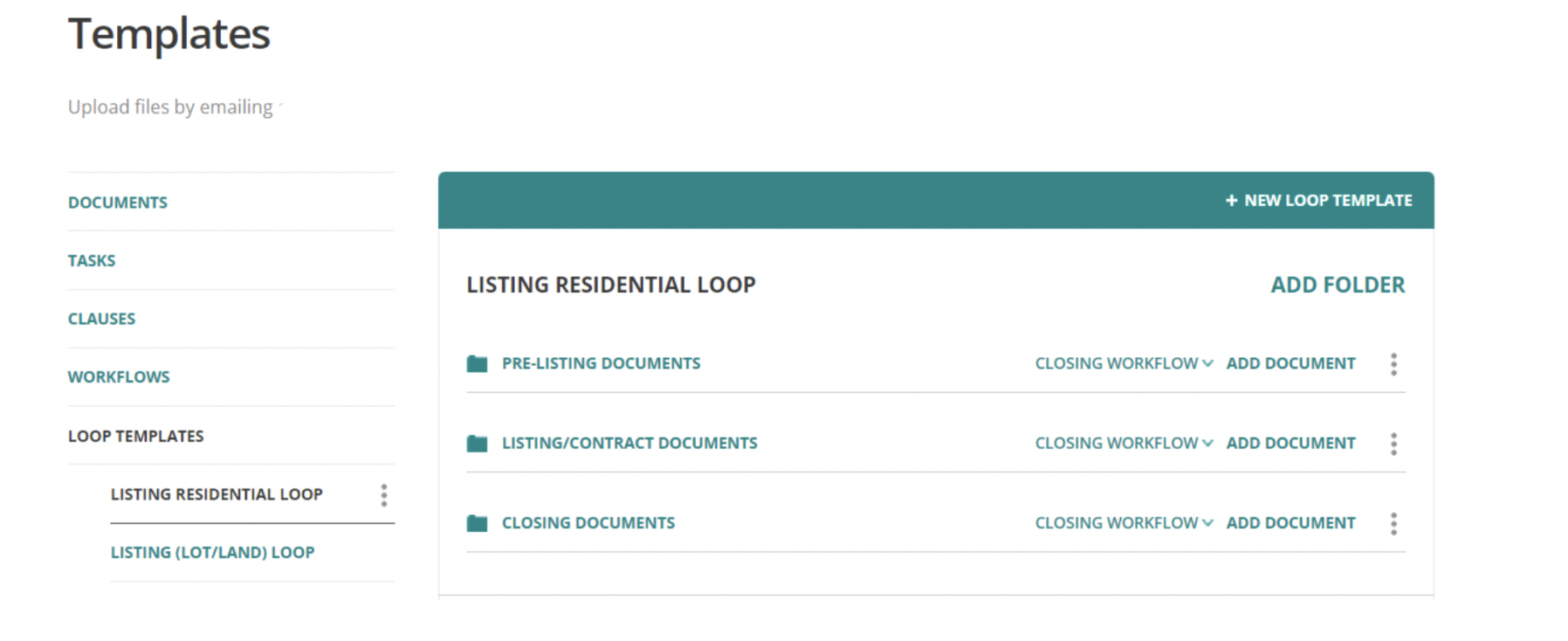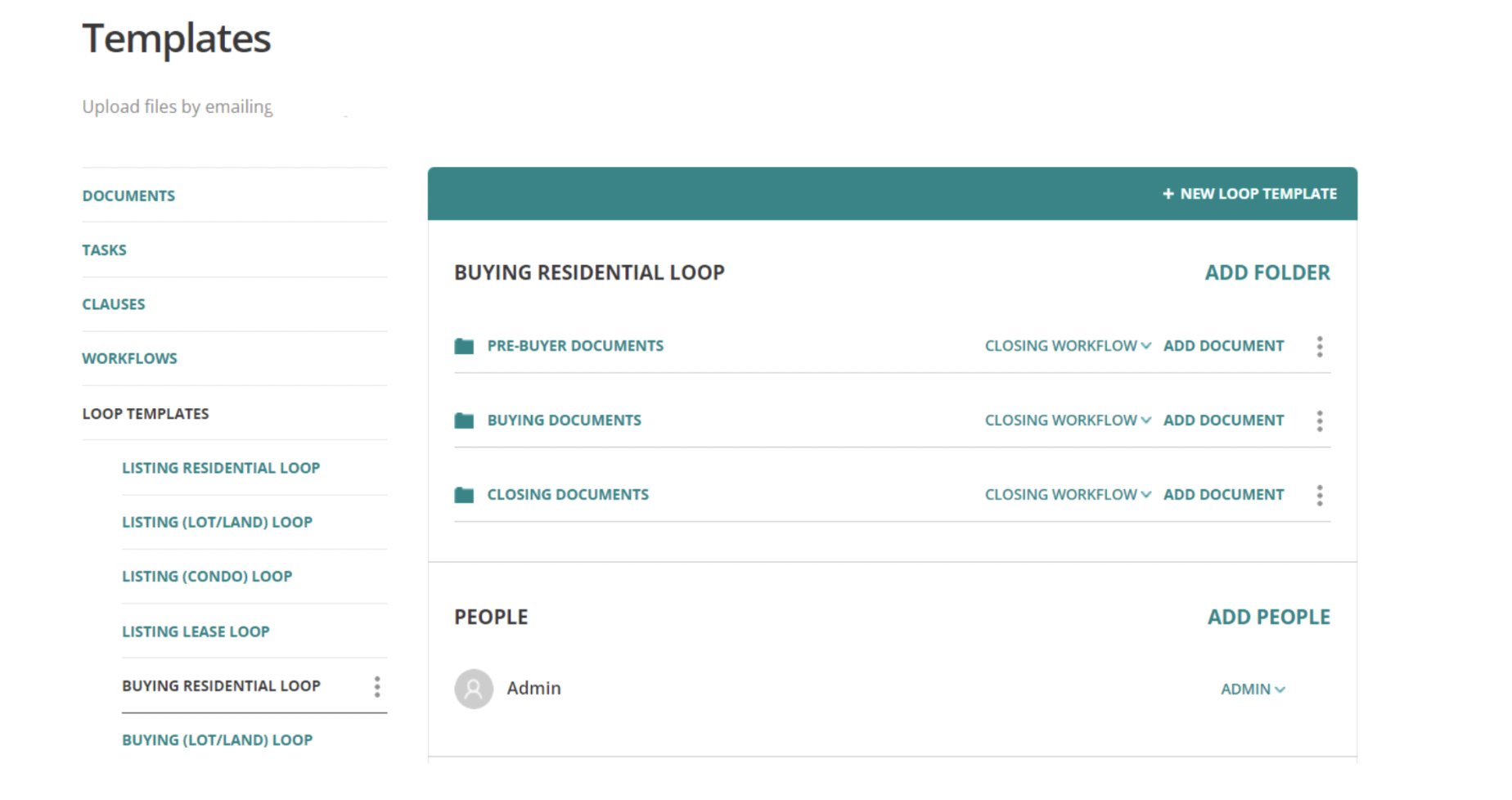 For instance, you may split them up by Pre-Listing Documents, Listing/Contract Documents and Closing Documents or, on the buying side, by Pre-Buyer Documents, Buying Documents and Closing Documents.
Placeholders are a great way to indicate to your agents that they need to add a required document to a Loop Template. Typically, placeholders are reserved for PDFs of documents that are added to the loop from an external source outside of dotloop. For example, placeholders can be used to designate where a copy of the earnest money check, MLS Sheet or potential tenants' licenses will live.
Loop Templates offer a great place to store Task Lists for your agents at all stages of the transaction. These lists keep your agents on track for their responsibilities by notifying them when something is needed. But what about your clients? You can also add Task Lists for all parties of the transaction to keep everyone notified of their next steps.
Loop Templates do not have to be just about the transaction. Create a Loop Template for onboarding new agents by adding document folders for your agreements, business card-ordering forms and intake sheets. Then add Task lists for your admins so they don't forget to add the agents to the email roster for training and other important events.
Our Dotloop PRO Team can help your team or brokerage set up a secure HR dashboard loaded with Document Templates, Loop Templates, Workflows and tax forms. Click on the link or see below for more information.
Let Us Do the Heavy Lifting!
Don't have the time or resources to set up Loop Templates? Learn how our dotloop PRO services can help by setting up Templates for your Teams or Business+ account.
Loops contain valuable information about each transaction that can be exported from dotloop into one of the many integration partners or as a .csv file via the Report Builder.
Loop Templates also give you the option to create custom labels, which can further help to collect useful data. Just like the property address, this information is collected each time you fill out the loop details section and can be exported in reports from dotloop. Custom labels cover a wide variety of possibilities from flagging marketing details to referrals to local dog walkers.
The Dotloop PRO Team can help facilitate the setup of custom labels as well as a custom Reporting Tool Modifier, a macro-enabled Excel Workbook that provides a simple way to review this information on a monthly basis.
In fact, the dotloop PRO team is available to help your office strategize and make changes to your Loop Templates in multiple ways that make the most sense for your unique business operation.
Especially at a time when many teams and brokerages are finding bandwidth and resource issues challenging, Dotloop PRO is available to help you optimize all the many uses of Loop Templates. Dotloop PRO subscribers receive a free HR Dashboard and can receive assistance in managing complex field calculations, custom workflows, integration set-up, and expedited turnaround on service and support requests.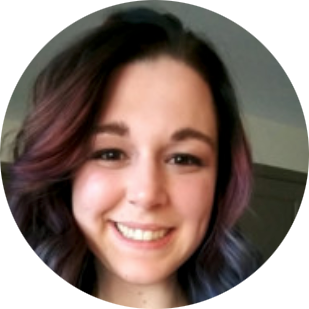 Rachel Priess
Rachel Priess is a Senior Partner Services Executive with six years at dotloop. Starting as a Document Analyst, Rachel is now the resident Field Calculations Expert and Lead for the dotloop PRO Team. Outside of work, Rachel loves to hike with her dog Graham and practice her newest hobby, horseback archery, with her horses Mysti and Ducky.