Webinar: Expert Tips on Managing Dotloop Tasks Templates
How To Efficiently Manage Tasks to Keep Real Estate Transactions Flowing and Everyone on the Same Page
Dotloop Trainer, Broker/Owner and Guest Presenter Carolyn Thompson shares her best practices on how to create and navigate Dotloop's Tasks and Task Templates to keep your transactions flowing seamlessly.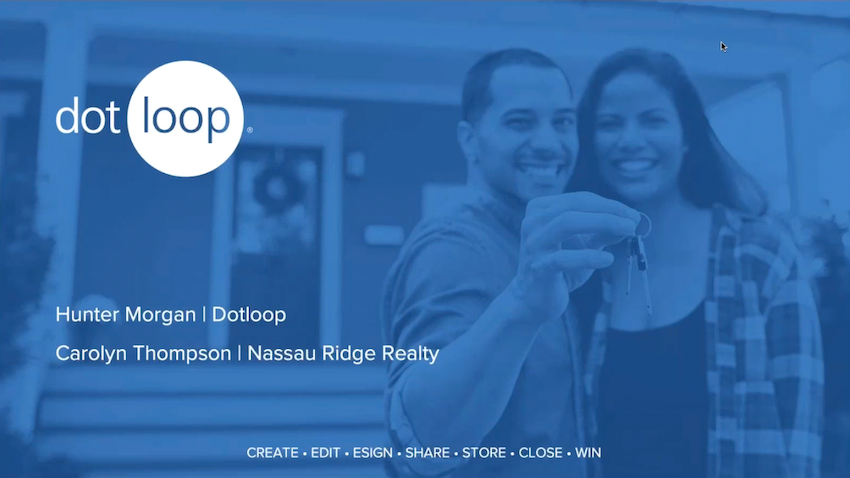 In this 30-minute webinar hosted by dotloop Director of Training Hunter Morgan and presented by veteran Dotloop Certified Trainer Carolyn Thompson, you will learn how to:
Access dotloop's free Tasks and Templates, including an Offer Checklist, Listing Checklist and Closing Checklist. Along with adding these task templates to your account, you also get access to free real estate forms like a Transaction Summary Sheet, Seller Net Sheet, and more.
See how to easily add Tasks and Templates to your loops and even assign due dates.
Not sure where to start with building your own custom task templates? When you watch this webinar, you'll have the opportunity to download our helpful task template examples PDF, which will give you ideas on what to create.
Share your Tasks with a team member or add a colleague. Need to share specific tasks with buyers and sellers but don't want them to see the entire task list? Thompson will show you how to do that.
Customize tasks for quick reference, such as:
Adding a name and number to lenders and title companies
Adding a date when the earnest money is received
Adding plan numbers to home warranties for fast client lookup
As an admin, you may want to lock a task list, especially if it pertains to compliance.
For each task, you can easily create a hyperlink to any web page. For example, you can link to a Google Doc with utility or third-party provider information.
Minimize the chance of missing another appointment, transaction milestone date, deadline or client birthday by integrating Google Calendar with dotloop. Google Calendar will automatically update to reflect changes made by you or an assistant in dotloop.
Carolyn Thompson is the Broker/Owner of Nassau Ridge Realty and a long-time dot-Certified Technology Trainer, Mentor and Consultant. Thompson is an Oklahoma-based, multi-million-dollar producer with more than 24 years' experience in real estate. An Accredited Buyer Representative, Certified Post License Real Estate Instructor, Tech Trainer and HUD Property Purchase Trainer, Thompson has taught agent classes in more than 39 states and is certified as a continuing education (CE) instructor in 20 states. She's also consulted extensively with dotloop Product and Development teams over the years to help shape the transaction management experience of the future.