The Ignite Team | Platinum Realty Finds its Foundation in Omaha
The Ignite Team at Platinum Realty Demonstrates Why Real Estate Teams Are Setting the Trend in Real Estate Today
In early 2021, former trainer and coach Clayton Mulford and admin Samantha Tisinger met at a local Omaha, NE, coffee shop, where they threw a few ideas down on paper with thoughts on forming a real estate team.
Within a matter of weeks, they had a bank account and a Limited Liability Company (LLC) under their new name, The Ignite Team at Platinum Realty
"By April, we moved our licenses and said, 'Wow, now we need some agents!'" says Mulford.
Building The Ignite Team, Beginning with Culture and Accountability
Almost two years later, with a team of eight, an average commission check of $5900 and $14.3 million in closed volume YTD, The Ignite Team is well on its way to achieving its annual production goal of $20+ million.
But Omaha is not San Francisco, and in a market where the average sales price for existing residential homes is $333,533 and the average YoY median price is around $280,000, theirs is a volume game.
"Omaha is unique in that we don't have the high highs or the low lows," says Mulford.
Tisinger agrees. "The hustle out here is a little different. You have to go after it a little harder. There just aren't that many million dollar properties to be had."
Almost immediately upon the creation of The Ignite Team, the response from local vendors who had worked previously with the team co-owners was overwhelmingly positive.
"When Clayton and I started the team, that was probably one of the most surprising things that I didn't know about us," says Tisinger. "People watched us as agents and watched us as leaders at the former brokerage, and when we went out on our own, they were like 'Heck yeah, we'll partner with you.' It was crazy and very flattering."
When they started The Ignite Team, Mulford and Tisinger had firm ideas of how they wanted to shape the new team experience for their agents.
They knew they wanted to reward them with high commissions – Ignite agents receive a choice between paying a monthly fee and keeping 100% commission, or they can opt for a capping model with an 80/20 split until the agent reaches the annual cap, which is currently set at $18,000.
They also wanted to create great team culture and accountability. "We said, 'If we can figure out a way to pay our agents, great, but, more importantly, let's have amazing culture and honor what we say we'll do," says Mulford. "I genuinely believe you can pay your agents the best split ever, or you can pay them the worst split ever; but, if they feel like they belong, they're going to stay."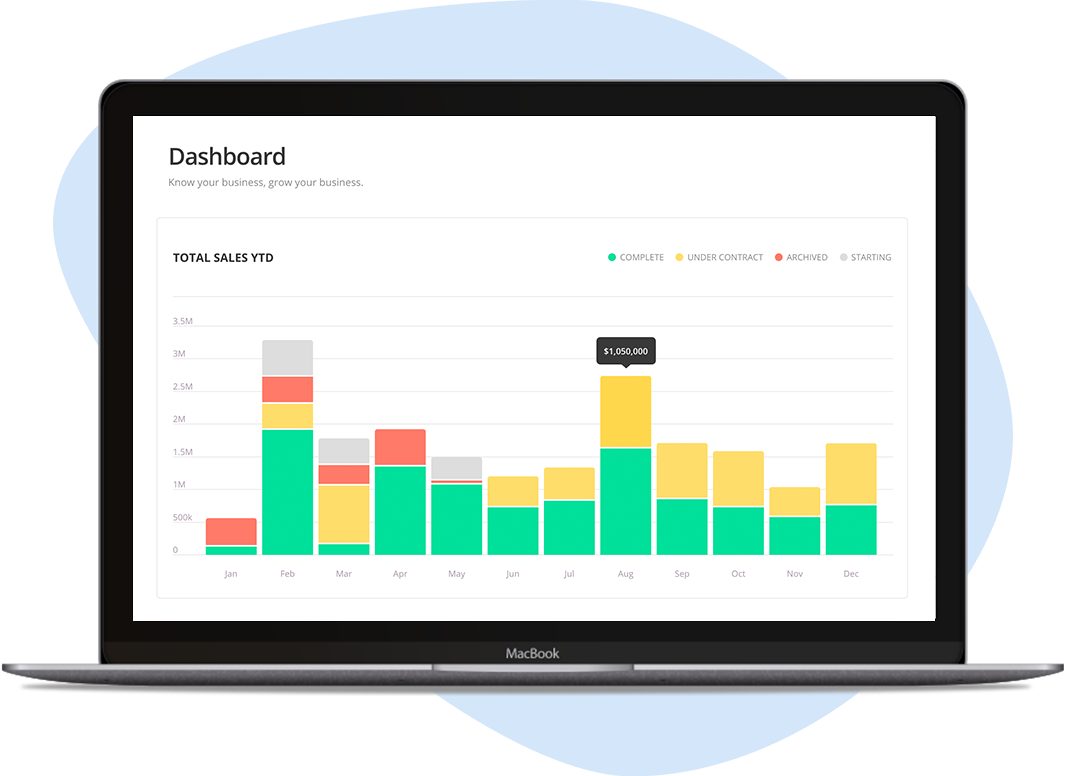 Part of a Real Estate Team?
Dotloop for Teams empowers over 2,000 teams with custom transaction templates, automated compliance, reporting and more. No more sharing login information.
Staying Agile in an Ever-Changing Market
The ability to stay agile has allowed The Ignite Team to scale. "If someone has a suggestion, we can review it, think about it, plan it out, execute and not have it take six months or go through a lot of red tape," says Tisinger.
Case in point: When one of their agents saw another agent's review website, complete with social links, the idea sparked inspiration to add a review page to the team's site.
"By the next Tuesday, we had that page built out," says Tisinger.
Now, every client who closes receives a copy of the team's preferred vendor list and is guided to the agent-specific review page, where they can click to leave a review.
"It's the ability to have a bad@** idea that's really good and say, 'Let's go,'" says Tisinger.
The team leads have also vowed to hold fewer meetings, especially when an announcement or an idea can be communicated in an email.
"Clayton and I try to make sure what we're doing every week with the team is valuable," she says.
One week may be a quick team huddle followed by a specific training, while the next week the team participates in an in-office "power hour," in which they dedicate time to prospecting leads together.
It's that camaraderie that has fed the teamwork ethic, provided the mentorship for new, aspiring agents and offered coverage for agents when they need to take time off.
"How many clients did agents miss out on because they didn't have someone to cover for them?" Tisinger asks. "That's something people don't think about."
Dotloop for Teams: The Key Difference Maker
The customer service Ignite is able to deliver as a team has also prospered, especially with the extra hand Tisinger found in her new admin. "We are able to offer this amazing customer service on top of what the agent is doing, and it makes our agents look like all-stars," she says.
But it's her other right hand assistant, dotloop, which has made compliance review and processing files with customers a breeze.
Because the team has access to admin profiles through their dotloop for Teams account, the co-owners are able to log in and look at their agents' files if there are any issues.
"Honestly, dotloop is our filing cabinet. It houses all of our agents' and clients' information and has all of our independent contractor forms," says Tisinger. "The best part is I could be down in Kansas City and if there's a question, boom! You sign in and you got it covered."
New agents and admins are onboarded to the transaction management system on day one through The Ignite Team's HR platform in dotloop, where the new hire independent contractor forms and board docs are pre-loaded in a New Agent Template.
"We can just plug and play, throw a name on the line and it takes literally 2 minutes to prep the docs," says Tisinger.
In addition, The Ignite Team streamlines all of their transactions with dotloop's Tasks Lists and uses the platform's Submit for Review workflows to cover compliance.
"I was actually complimented today by our corporate office who said, out of all the multiple markets they service in five states, our team has the best compliance files," Tisinger says.
The systems and templates in dotloop have garnered more than a few compliments from Ignite's clients on the customer experience as well.
"My clients, especially those from out of town, are shocked that they can complete a transaction and not even be here," says Tisinger. "They feel really empowered, knowing they can get this done and be on a work trip or vacation and get an offer in and feel really good about it."
"Or, we could be on vacation and fill out docs for each other," Mulford adds with a smile.
"Yes, that's happened," Tisinger quickly notes, recalling a transaction last December when she showed a house right before she was due to leave for a Green Bay Packers football game.
"I wrote the contract in my hotel room 20 minutes before I left for the game, then finished it and pushed 'send' on the bus on the way up to Green Bay using the dotloop app."
"Now that was slick!" Tisinger says.