Feature Update | "My Loops" Added: List View, Pricing Status and More
You Requested. Dotloop Delivered.
The new responsive "My Loops" product features are here, with more on the way!
Dotloop began as a transaction management platform to empower people to do what they're best at — sell real estate. So, when the product developers decided to introduce a new responsive technology, who better to turn to for inspiration than the people behind the product, the users.
Transactions List View

Indeed, almost all of the ideas for the new responsive feature updates have sourced directly from customer feedback. Take, for instance, List View, a fan favorite of admins and agents who work with multiple properties at a time. Now, these users will see a more robust List View that enables all the functionality of the Card View yet with the ability to quickly scan multiple properties at once.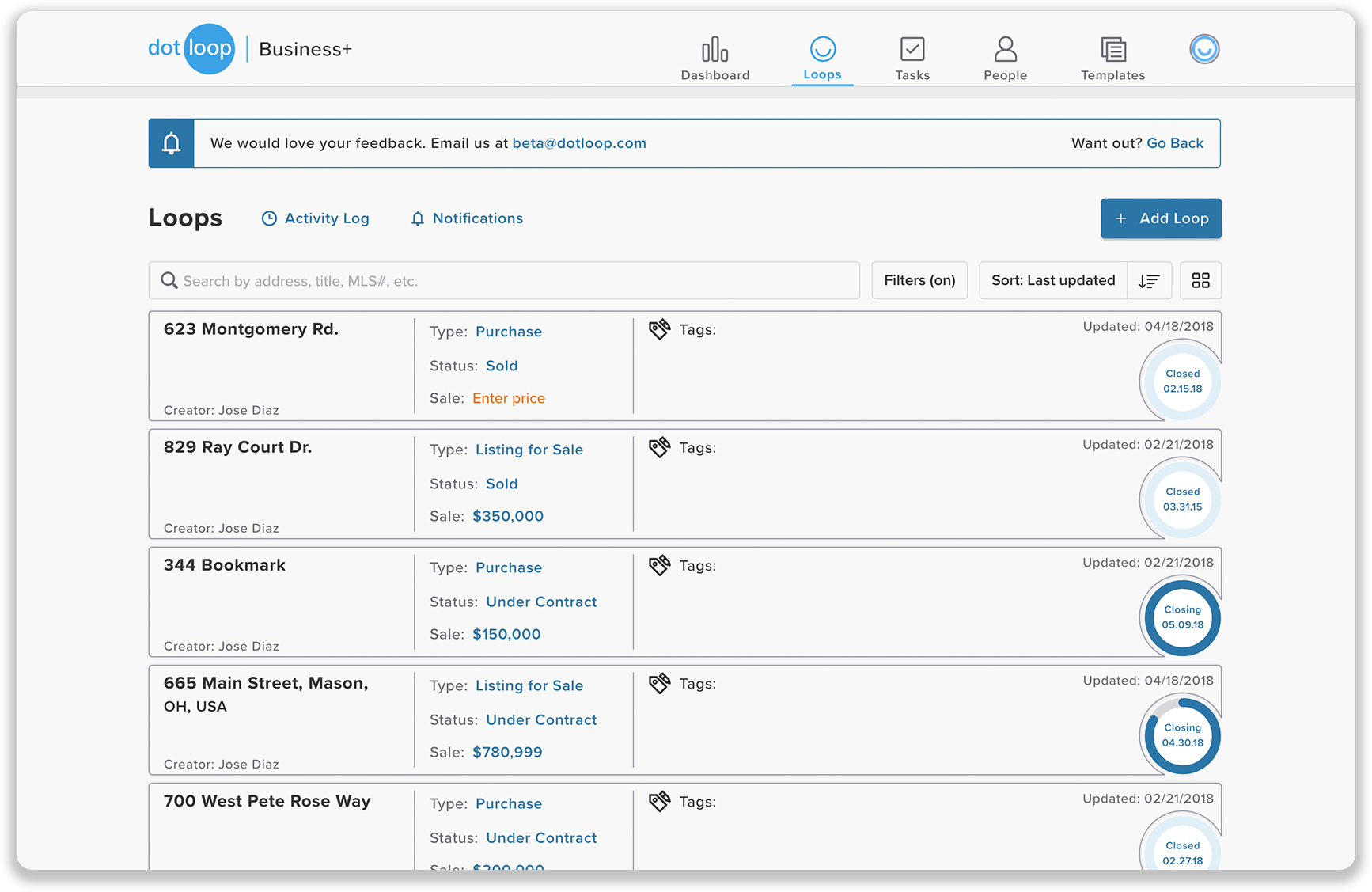 Dynamic Pricing Status

The transaction pricing status will now dynamically adjust with the loop status. For example, a loop that is "Active Listing" will reflect the listing price, but once the loop status is set to "Under Contract," the sale price will display on the listing card.
Status: Listing | Price: Listing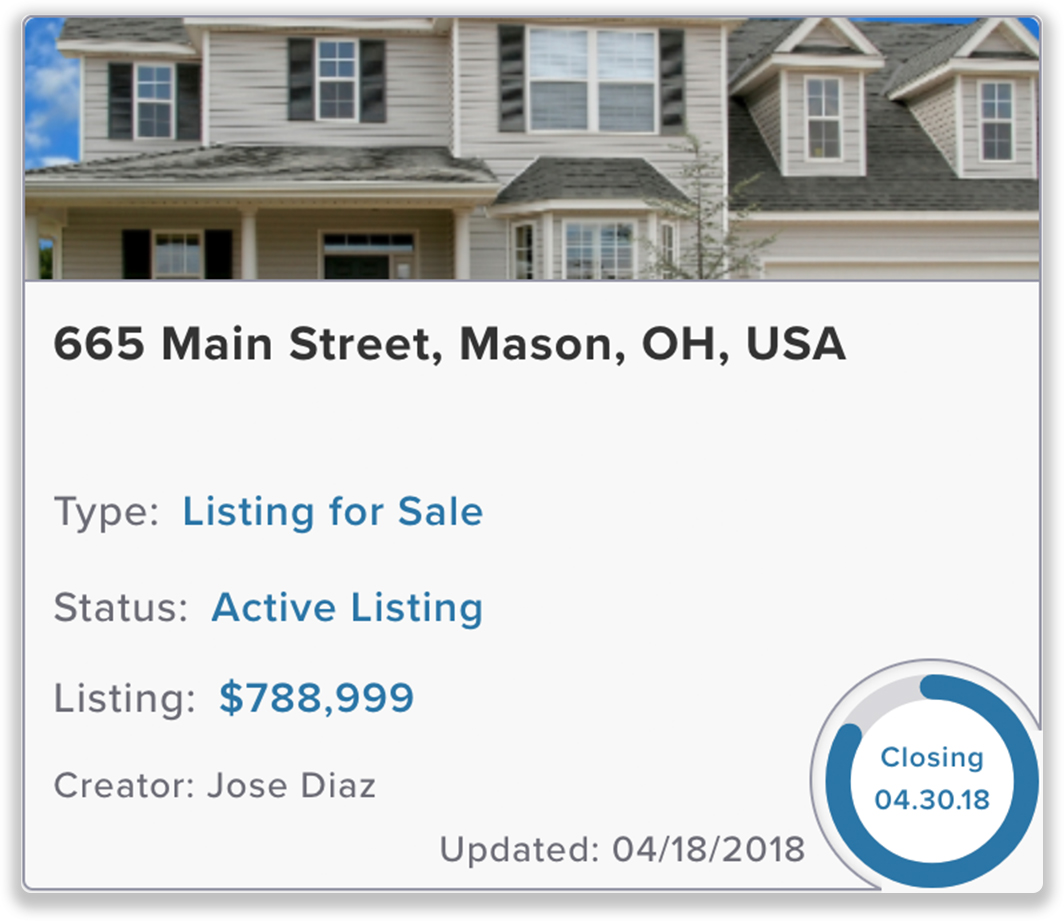 Status: Under Contract | Price: Sale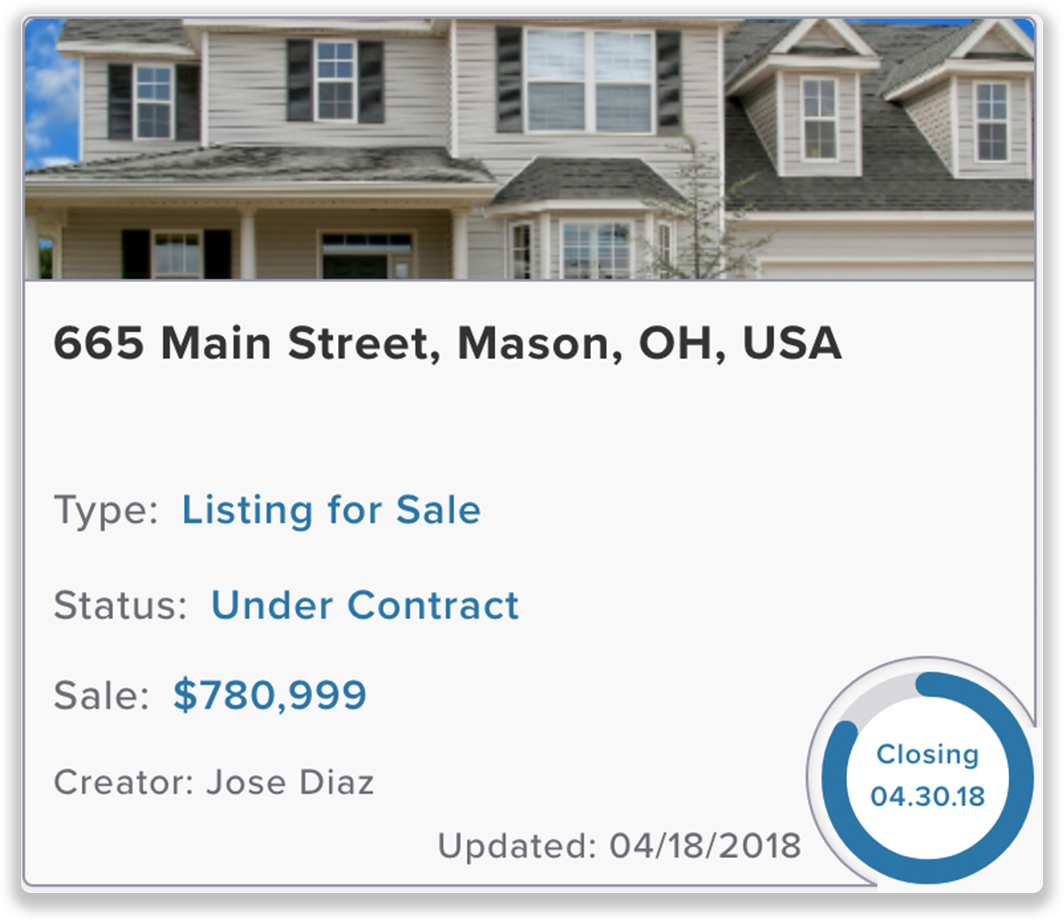 Custom Tags

Admins and transaction coordinators also expressed a need to add personalized tags that are visible within either the Card or List View. This enables the user to quickly scan and search loops for the specific information that works best for them to organize their listings. The agile functionality also allows adding a previously created tag directly from the List or Card View. Some examples: If a team uses an internal listing number system, each listing can now display that number. Or, if an admin wants to tag all "approved" listings, they can tag those loops directly. It's just another way dotloop is customizing functionality to the user's workflow.


In general, dotloop's responsive technology allows users to navigate quicker and more efficiently regardless of screen size, browser type or resolution.
Other recent updates include a visual progress bar that allows users to quickly scan their cards for real-time status, customized filters and the option to upload a picture of the home from the MLS for display in the loop card.
Users can also now change the Closing Date, Listing Price, Transaction Type and more directly in the loop card, as well as filter and sort with a virtually endless number of options.
Read more about dotloop's recent responsive technology updates or click here to give try it out.
Responsive "My Loops" has quickly become a fan favorite
"I am a visual person and, to me, this is cleaner and easier to read than the round loops. I sell homes, so I love seeing the home designs."
—Marcela Ruiz, the Boulevard Company
Great job!!!!  I love the new look!!!
—Precilla Ponder, Metro Brokers
"The new look is fabulous! I can see at a quick glance each [loop's] progress instead of having to go into each loop."
—Rebecca Kane, Rebecca Kane Real Estate

"Love the new Loops Page look. It's more visually appealing and more info is visible before opening the loop."
—Michael Mashburn, Keller Williams Realty
"Love the new look!!!  Easier on the eyes … more user-friendly."
—Paul D. Myers, Coldwell Banker King Thompson