Step 2. Set the Sale Price.
Setting the sale price can be tricky, especially in today's market. In an inflated, heavy sellers market, homeowners are often tempted to overprice and may require some negotiation to ensure a timely sale. Or you may find the property the envy of so many local buyers that the house sells for $100,000 over list.
In all cases, it pays to research comps and obtain a current appraisal – a small fee to pay for a quicker, friction-free sale.
Here are a few tips from Zillow to consider when comparing comps:
Find comps within a quarter to half a mile from the home.
Look for those listings of homes with the approximate same age and size – within 300 square feet and same bedroom/bathroom count.
Try to find listings from the last three months.
Once you determine the approximate sales price, you'll also want to know how much the sellers are willing to go below that price when entertaining buyers' offers.
Many MLS CMAs list "days on market" and "sale to list price" – useful data points that can help set expectations around the sales price. For instance, if the average "days on the market" is four days, then you might call this out and advise the seller to consider lowering the asking price if no offers come in within a certain set time.
PRO TIP:
Have your prospective sellers identify how much they have in their remaining mortgage balance. This will give them a clearer understanding of how much equity will remain in the home once they sell and how much they can budget for any home repairs and improvements needed before the sale.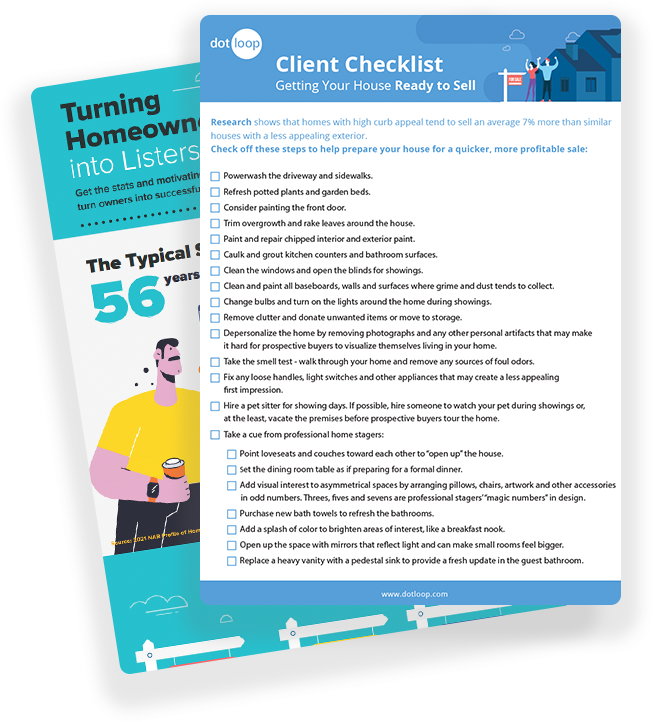 FREE:

Home Seller Checklist and Infographic

Download and share this checklist with your listing clients to help them prepare their house for a quicker, more profitable sale. Plus get the insightful "Turning Homeowners into Listers" infographic.
Step 3. Establish a Time Frame for the Sale.
Many factors, from the state where the sale takes place to the type of market, will determine the best time to sell. According to Zillow, the best time to sell a house is in March for a quick sale; but, if maximizing profits is your seller's goal, then July may be the best time to list.
Zillow Research shows that 57% of homes nationwide sell at or above listing price when the seller accepts the offer in the first week. By the second week on market, that number drops by half and trends downward with additional weeks. This is one reason why it's important that agents and sellers are clear on their pricing strategy before listing a house.
There are several tools that can help facilitate the listing agents' job when showing the home and fielding offers:
Easy Offer
Dotloop's Easy Offer feature offers a quick and easy tool to market a listing while tracking the names and emails of those who have reviewed the documents in the Easy Offer folder. Listing agents gain insights and reporting into how many people are joining their loops through the Easy Offer, while buying agents who don't typically use dotloop can easily review and submit an offer on the listing. This helps eliminate duplicate loops while giving the listing agent control over what the buying agent sees within the loop.
ShowingTime
ShowingTime streamlines the showing process for agents with a mobile-friendly scheduler and confirmation of showings. Custom reports also allow agents to select a variety of geographic parameters to view market trends using visual charts and graphs.
3D and Virtual Tours
Zillow data shows that 3D Home Tours help listings sell 14x faster and receive an average 45% more views than those without this feature. Unlike traditional, 2-dimensional touring tools, this free virtual selling tool allows buyers to take a dynamic tour of every room at their own pace as if they're actually touring the house in-person.
PRO TIP:
According to Zillow Consumer Housing Trends Report 2020, nearly 80% of home buyers surveyed said they are more likely to view a home if the listing includes a floor plan they like. Zillow's Rich Media Experience (RMX) makes this a reality by creating dimensionally accurate and interactive floor plans that can be integrated with listing photos and 3D tours to display the layout of the entire house from any specific location and provide a more authentic experience for buyers. Click on the link above to learn more.
Step 4. Step Up the Curb Appeal & Stage.
First impressions often make and kill real estate deals. The way a property sets the tone upon the first impression significantly affects the ultimate emotional connection made between the home and the buyer.
To avoid any surprises, especially with older homes, agents will want to order a pre-inspection to call out any repairs that may be otherwise flagged by an inspector later in the home selling process.
While the laundry list of needed repairs and renovations may seem overwhelming to a seller, agents can help guide their selling clients by pointing out those repairs that will return the greatest value for the investment. For instance, adding a steam shower could earn a lister a 30% premium above the expected sale price, according to Zillow research. Professional kitchen appliances, sheds or garage studios, heated floors or radiant heating, and outdoor kitchens are other high-value items that will help increase a seller's return on investment.
Staging a house can also increase the purchase price between 1-5%, according to a 2021 NAR survey. Even if there's no budget for staging, it's imperative that sellers declutter and tidy the home, removing childproof gates, highchairs, toys and laundry and repairing any pet damage.
The trick to great staging is to create an environment where those touring can feel themselves living in that space with all of its possibilities. Also, it's important that each room has a purpose or an identity. For example, an empty room staged to assume the role of an office or extra bedroom will help buyers visualize use of that space.
Staging can range from DIY sellers to full-service professional stagers and everything in between, including partial home staging services that take over after the seller declutters and cleans to even live-in stagers who temporarily move into the home after the seller has vacated the home. Sellers and agents can also hire consultants who do a walkthrough of the house and recommend how to prepare the home for sale. For all services, fees range accordingly and typically include the rental of furniture and accessories for a month or some other preset amount of time.
PRO TIP:
For more staging tips and how to advise clients on preparing the home for sale, download the free comprehensive client checklist at the top of this article.
Step 5. Preparing for a Smooth, Friction-Free Sale.
A well-staged, well-priced home may have everything needed to fetch a high sale price; but, if it's not marketed properly, the sale can fall short. Make sure to cover multiple marketing channels, from social listings to posting on a variety of websites, and ensure the photography – whether static images or the full-service 3D virtual tour – is of the highest caliber.
Agents can also optimize their sales performance by writing a killer listing description, using essential phrases and features that speak to the key demographic. Try to accommodate all showings, from remote, private tours to open houses, as face-to-face interaction with prospective buyers helps agents gather feedback and add visitors to their sphere.
Lastly, make sure sellers fulfill their legal obligation by completing the following essential steps:
Complete all negotiated repairs and inspections.
Obtain all needed certifications, like a sewer line inspection or roof condition certification.
Make all property disclosures in writing prior to closing, with specific rules and procedures based on the property address.
When done correctly, listings may continue to pay off well beyond the initial commission check with additional transaction sides and referrals. Remember, when agents exceed their selling clients' expectations with a seamless, friction-free transaction, the client won't think twice about who to turn to when they're ready to buy and refer in the future.