Building Stronger Client Relationships: 10 Real Estate Agent Best Practices
Strong Agent Credibility with Clients Begins with Quicker Response Times, Automated Systems, and Better Collaboration Among Agents and Admins
More home buyers and sellers are turning to real estate teams for their specialized knowledge and ability to pivot fast in a changing market to serve their clients' real estate transaction needs.
But if a team's response time isn't hitting the target on time, all that hard work that went into generating the team's lead gen might easily vanish.
Real estate clients quickly form a first impression about a team by how promptly the team members answer their questions, retrieve needed information and move the transaction forward.
Those teams who are organized and prepared to respond quickly to new clients are more apt to scale quickly and build deeper trust with their buyers and sellers than those slower to connect.
If clients are consistently having to call the agent or admin with questions, it may be time to take another look at your team's communication and responsiveness.
Here are some ways to cut your real estate team's office response time and start building communication credibility with your clients.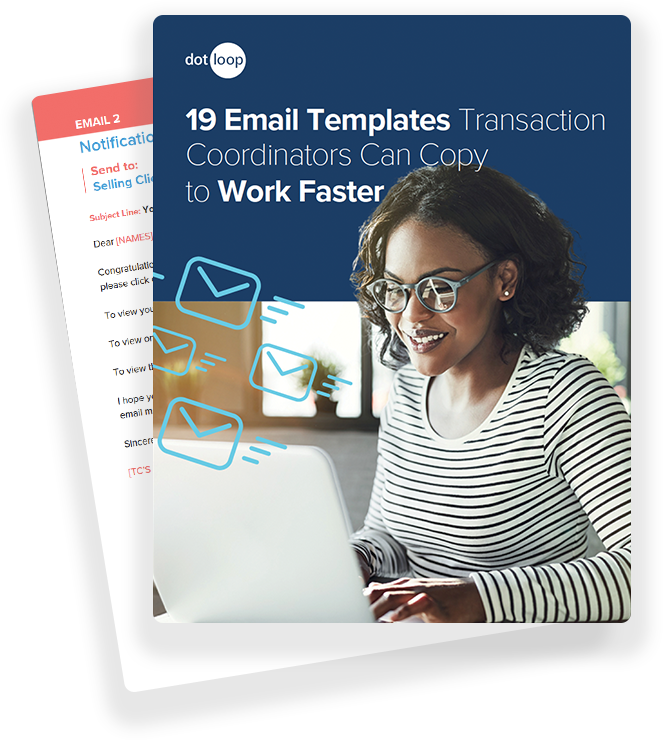 FREE DOWNLOAD:

Grab the 19 Transaction Coordinator Email Templates to Go

Download this free resource which contains all 19 email templates you can copy, customize and use to speed-up client communications and transactions.
How to Decrease Response Time and Build Communication Credibility with Clients
Follow these 10 steps to improve the speed and quality of your agent and admin's client communication.
As a first step in opening the client relationship, agents should ask new clients for their preferred communication style. Would they rather receive texts, email or phone calls? While older clients often prefer a phone call, a Messenger text might feel more natural to millennials. Never assume a client's preferred communication channel.
Also, ask your clients how often they want to receive updates. If a client responds "daily" but that falls outside the team's bandwidth, the agent should level expectations upfront with the client, says real estate coach Dr. Lee Davenport. Maybe the team can compromise by releasing a report every Friday or connect every Monday on the phone to relay weekly updates during a transaction.
"If our client ever feels like we didn't communicate enough, it's because we didn't set that initial expectation of how often we communicate," says Davenport. "Don't wait until you're in the midst of the transaction because it's too late to set expectations."
Current market conditions can also help set the pace. "It might not be unreasonable to talk to a client daily in a hot market where every day matters," says Davenport.
If location is everything for the real estate client, then timing is everything for the real estate agent. Research shows that agents can dramatically increase their chances of getting the listing and finding buyers when they answer the call of a new client within 5 minutes.
In a study of average response times across various industries, timetoreply.com found the average real estate company takes 15 hours to respond to a lead. Even worse, a 2014 study by wavgroup.com of 384 different brokers across 11 states found that a shocking 48% of buyer inquiries were left unanswered.
That's a problem. Today's consumer expects a response within 5 to 10 minutes. In fact, Hubspot research shows that 90% of customers rate an "immediate" response as important or very important when they have a customer service question, and 60% of customers define "immediate" as 10 minutes or less.
NAR data backs up the need for lightning fast response times to new leads, when you consider an overwhelming number of buyers (73%) and sellers (82%) work with the agent first to the interview.
Many dotloop-integrated CRMs allow teams to track agents' outbound calls and emails, send reminders and automate client communication.
Real estate teams can also help agents and admins by setting up real-time notifications when there's activity in a transaction that requires a response. Dotloop for Teams, for instance, allows team members to set notification preferences and empower transaction coordinators to act on behalf of agents for editing and sharing documents, collecting eSignatures and more when the agent is busy.
Setting up a standard email response time policy will help set expectations for team agents, but implementing systems to empower those quick response times will keep the team consistent and on track in their communication goals.
Say a team requires its team members to respond to new leads in a 5-, 10- or 30-minute time frame and answer general email inquiries under 2 hours. Teams who use standardized templates and procedures to retrieve commonly used documents can help empower agents and transaction coordinators to speed up their standard replies while ensuring more consistent, error-free messaging.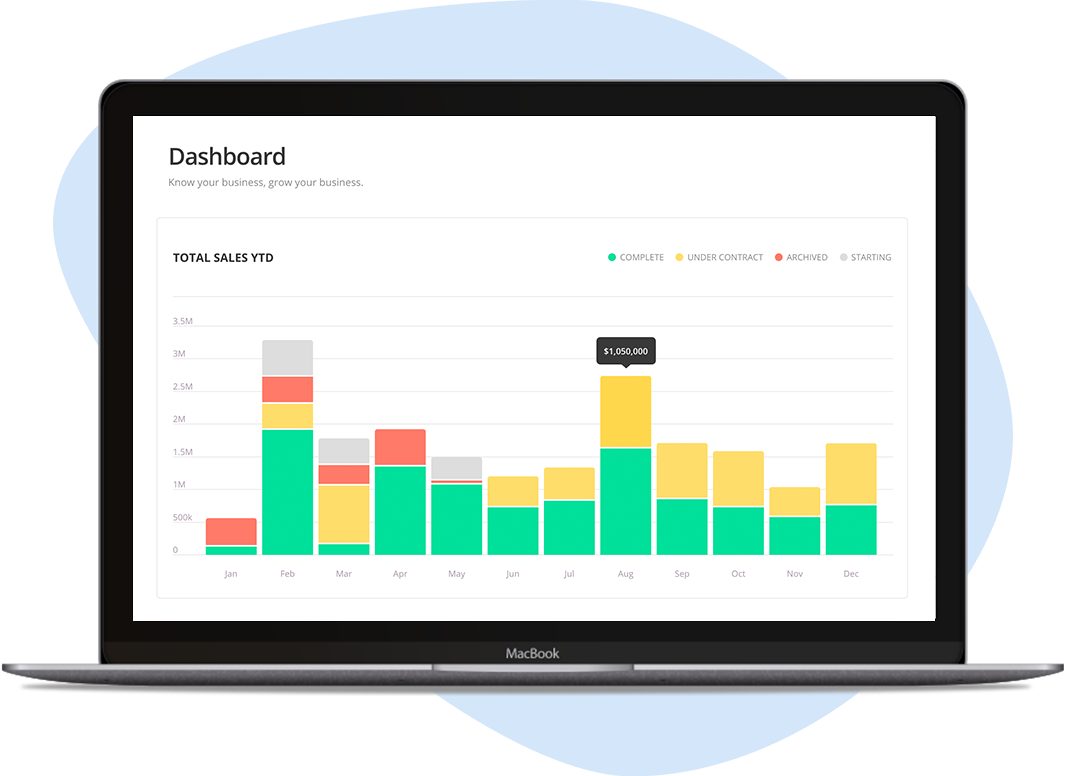 Part of a Real Estate Team?
Dotloop for Teams empowers over 2,000 teams with custom transaction templates, automated compliance, reporting and more. No more sharing login information.
Agents and admin can cut the confusion of who's answering the client's requests by copying everyone, from the agent and transaction coordinator to the lender and title agent, on all necessary communication.
Samantha Tisinger, co-owner of The Ignite Team at Platinum Realty, Omaha, NE, has seen this scenario play out all too often: Either the agent or the transaction coordinator fail to copy each other on communication and end up replicating the client-facing task. By simply copying all the applicable agents and third-party providers on emails, teams can eliminate much of the guesswork.
Teams can incentivize agents and transaction coordinators to improve their client response times by introducing contests that encourage friendly competition.
Team leads might reward all team members who keep their average email response time under 2 hours by gifting them with a special perk at the end of the month. Or, they might incentivize the whole team by requiring everyone to contribute to the goal, suggests real estate coach and teams specialist Sherri Johnson. The options are endless, and the results only compound as the contests build momentum.
As Johnson notes, "once you repeat something more than once, it becomes a system." A team's system might be something as basic as an open house protocol when the agent first meets a prospect at a property and wants to send a templatized note with a list of lenders or information about how the client can send their earnest money digitally.
Client-facing email templates and preloaded loop templates can help transaction coordinators speed up response times and decrease errors. Rather than recreate an email every time a client opens escrow, the client-facing email templates provide a fast, easy way to communicate.
Loop templates help automate the process with preloaded packets containing all of the team's and brokerage's documents tailored to the buyer's or seller's transaction journey.
Team agents and transaction coordinators need solid communication internally as well as externally to meet today's real estate client's needs.
By maintaining SOPs, real estate teams can turn the everyday process into a standardized process that helps raise the bar on the customer experience.
In addition to document templates, tasks lists help streamline the transaction process by allowing admins to assign people and dates to specific tasks in an itemized to-do list. Each of these lists can be created within the loop or loaded from preset templates created by the admin or the office.
Your team's client responsiveness not only has to be prompt; it also needs to add value. One of Johnson's favorite tools is an Exclusive Homebuyers Guide, a digital listing tool that adds value to the agent's communication by providing the contract; a message congratulating the buyer on their decision to list; a directory of lenders and other third-party providers; and a move-in checklist containing utility contact information.
Digital consumer tools like this coach's homebuyer's guide comprise educational marketing tools that clients treasure. They can be texted, posted on your website, turned into a flip book, video-taped or sent in a private message with a QR code. Combining print, video and social media will help expand the sphere and reach of an agent's profile. Most importantly, you'll be giving your customer something of value.
While standardized systems can help speed up the communication process and ensure quality control of the messaging, real estate teams should also seek ways to personalize the client experience to enrich the relationship.
Johnson recommends sending personalized letters at different phases of the transaction to "truly thank" clients for their business and for trusting the listing agent to market their home.
"The real communication happens when we take a moment to thank people and tell them how much we appreciate their business and referrals," she says.
Consistent lead gen starts with referrals and reviews. Zillow recommends agents ask for reviews after a successful close, when they provide real estate advice or show clients their first home.
Here again, timing is key. By asking for the review in the days immediately following a closing, agents are more likely to engage the buyer while they're still excited and motivated to thank the agent who helped put them in their new home. The details will be sharper and create a more compelling testimonial.
Tisinger's team follows a closing checklist, in which admins send buyers and sellers a link to Ignite Team's review website within a few days after closing. To add value, the team sends buyers a copy of their preferred vendor list for future repairs.
Not only do reviews foster future sales; they also provide essential client feedback, which, in the end, is where truly great real estate client communication begins.