Organizing Real Estate Teams to Scale
Want a Successful Real Estate Team? Here Are 5 Ways Dotloop for Teams Helps Teams Work More Efficiently and Stay on Task
Top 5 Features ↓ that Support Team Member Collaboration and Output
In a market where each month's double-digit growth outpaces the last, staying organized is not a nice-to-have but a much-needed element that's essential to any real estate team who wants to scale and maintain a smooth-running operation.
So how do successful real estate teams stay organized and deliver an impeccable client experience as they're closing a record-breaking number of transactions?
Many stay organized by using dotloop for Teams transaction management software, a custom-branded dashboard that lets teams create custom workflows for compliance and document management, time-saving transaction templates, and reports providing visibility into key business data, agent performance and productivity.
1. Act on Behalf:

Admins & Transaction Coordinators Can Take Action on Behalf of Team Members

Many admins and transaction coordinators are surprised to find that dotloop for Teams allows them to not only view the overall progress of a loop (transaction) but also allows them to take the controls when the agent is otherwise detained. Real estate teams, in particular, love this extra level of flexibility to stay on top of tasks and move the transaction forward.

The Act on Behalf feature empowers admins and transaction coordinators to take action on behalf of their agents and complete any steps in the transaction as if the agent had completed the action. With Act on Behalf, admins and transaction coordinators can create loops for agents (which will live in the agent's profile), and then edit, add, assign and share documents either as themselves or as if the action is coming from the agent.

Admins and transaction coordinators can review the documents for compliance and submit the file to the brokerage for approval, assuming the brokerage is using dotloop Business+ at the office level. By acting on behalf of the agent, the admin or transaction coordinator stays in the loop on documents pending approval and closing status.

While any action can be completed on behalf of the agent, any signature or initial fields signed by the admin or transaction coordinator will reflect coming from the admin or transaction coordinator, not the agent. Also, the activity log will show all actions completed as the admin or transaction coordinator on behalf of the agent, avoiding any confusion over who did what.

Our transaction has been one of the smoothest pieces through all of the pandemic. I had three admins logging in and logging out [of individual dotloop agent accounts] on average 30 minutes per day. I was paying admins $15/hour … multiply that times three and we found that it was costing us $45 per day [not being on the teams-specific platform]. So when dotloop for Teams rolled around, we jumped on it. Now, I get a notification every time one of my agents writes a contract. Additionally, admins get notified every time something happens. So if an agent needs something, the admin gets a notification and can jump on it to help out. That part of the business is 100% on point.

J. Michael Manley
CEO, Founder and Owner
2. Transaction Templates:

Save Agents Time by Automatically Including All Necessary Documents in Transactions

Arguably, no other digital transaction tool will help agents, admins and transaction coordinators save time and stay organized like dotloop's Transaction Templates, a digital folder that provides quick access to a set of custom, pre-populated documents. With Transaction Templates (aka Loop Templates), real estate teams have instant access to all the documents, people and tasks associated with a specific transaction, such as a residential listing or a residential buyer packet. This eliminates the searching for individual documents and constant rebuilding of commonly used sets, when a ready-made template can cut the work with a few clicks. In other words, Transaction Templates eliminate the guesswork for which necessary documents are required.

Agents, admins and transaction coordinators can also set placeholders for documents that need to be included as the transaction progresses, and, by completing "required fields" in the transaction details, capture valuable reporting metrics for the team.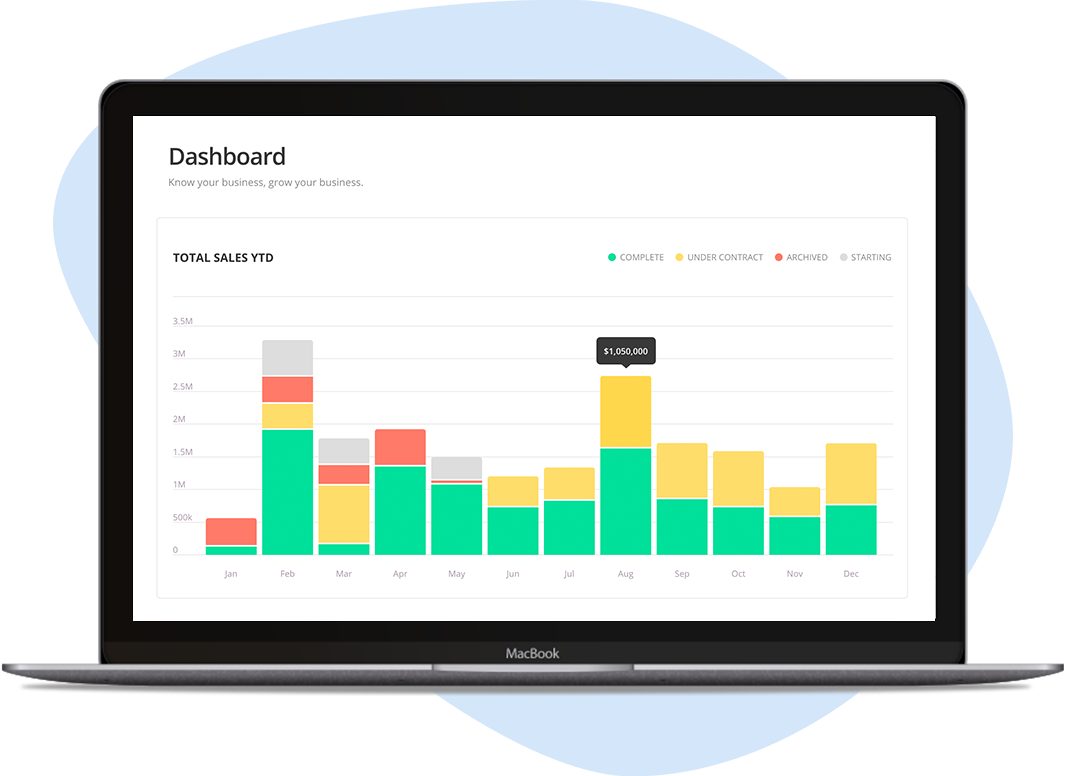 Part of a Real Estate Team?
Dotloop for Teams empowers over 2,000 teams with custom transaction templates, automated compliance, reporting and more. No more sharing login information.
3. Instant Notifications:

Team Leaders Get Alerted Immediately When Clients Sign Documents

Dotloop for Teams allows the team leader or transaction coordinators to receive the same real-time email notifications as the agent when a client signs a document, a message has been received or to alert about a daily task reminder. This feature increases the real estate team's visibility into the status of the transaction and helps to keep all the moving parts of a transaction in forward motion. These settings can be set independently for each team agent within the team admin account.

For busy agents, admins and transaction coordinators on the go, push notifications also work on mobile devices, including smartphones and wearables like smart watches. For instance, the iOS real estate mobile app has a Settings section that allows the team member to change the push notifications on the device. So an admin or transaction coordinator can receive a notification when a document has been signed and then navigate to the loop involved.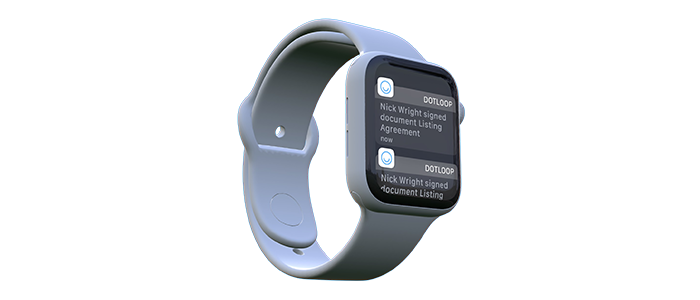 4. Loop Tasks:

Gives Agents a Checklist So They Know What to Do Next to Move Deals Forward

This indispensable feature is like having a personal assistant create and check off an itemized to-do list alerting you and others on the team to complete tasks. Team admins and transaction coordinators can create these lists within the loop or load them from preset templates created by the team. For example, the team might have a set process for Final Closing Procedures or a Listing Checklist, which can be added from the "Load task list" window.

Each task can be personalized with due dates and assigned to someone in the loop followed by optional daily notifications. As each task is completed and the box is checked, the task will "gray" and move to the bottom of the list.

To easily access tasks, admins and transaction coordinators can move the list to the top of the loop or click on "Show Tasks" in the "More" dropdown in Documents.
5. Compliance Workflows for Teams:

Streamlines the Compliance Review Process for Transaction Coordinators

Workflows simplify the compliance review process for transaction coordinators by helping to move document folders from stage to stage in the review process and to ensure all necessary documents are completed and make it to the final review by the managing broker on dotloop Business+.

Workflows help document management run more smoothly and seamlessly by organizing documents in the order of how the agent needs to work on them. For instance, team admins and transaction coordinators can customize the way a deal goes through the compliance process, from who gets notified to the types of documents needed before submitting for review.

Team workflows complement Transaction Templates as overarching workflows set by transaction type and, because admins and transaction coordinators can tag transactions, they can instantly see what's closing this month, under contract, sold, and the lead source.
Success Managers for Seamless Onboarding
Every dotloop for Teams customer has access to a dedicated Success Manager who can set up the dashboard, help ensure seamless onboarding of new team members and serve as a consultant and business-building resource for the life of the account. Teams receive yearly Executive Business Reviews with their Success Managers to learn dotloop's newest features and to help ensure the team is meeting its goals.
Dotloop PRO: Let Us Do the Heavy Lifting!
Busy teams who don't have time to create interactive documents, build transaction templates or customize workflows can also tap dotloop PRO to do the heavy lifting. Consider dotloop PRO an extension of the team with the ability to personalize training, connect a tech stack, conduct field calculations and provide expedited service and support with a VIP queue in phone support and document setup.