Is a Real Estate Team in Your Future?
Discover the Must-Have Traits of a True Team Leader According to Successful Industry Veterans
Team leaders are many things to many different people. To Kyle Newman, leader of the Ultimate Realty Team, Glendale, AZ, a team lead is a "firefighter."
To Jeff Cohn, host of The Team Building Podcast and owner of kwELITE Keller Williams, Omaha, NE, a team lead acts as a CEO who oversees all operations of the business, from lead gen and conversion to training, systems and technology, accountability and success management.
It's "leadership, accountability and ensuring a sense of belonging" to Hagen Kuhl, CEO of The Kuhl Team, Ascent Realty Colorado LLC.
And to Justin Letheby, trainer, speaker and coach with The John Maxwell Team, the lead is a visionary with well-established goals and clear communication.
But how do you know when you're ready to take this next step in your career? Take the quick quiz below to find out.
Are You Ready to Lead a Real Estate Team?
Answer these 5 questions to see if you've got what it takes to lead a successful real estate team.
So are you ready to start a real estate team? If you answered mostly "yes" to the questions above, you're probably in a good position to get started building your real estate team structure.
"Building a team is like everything else," says Veronica Figueroa, leader of the award-winning Figueroa Team, eXp Realty, Orlando, FL. "You'll know when you're ready. If you have a burning desire to build something special and are ready to lead and serve and invest into people — really develop people — then you're ready."
To help jump-start your team-building journey, check out the following 5 rules that top teams follow.
5 Guiding Principles of Real Estate Teams
The best real estate teams start with a well-planned strategy. Here are 5 guiding principles from top real estate team leads to get you headed in the right direction.
RULE 1 Develop Your Real Estate Team Structure
A typical team model encompasses a team lead and/or top producer, an admin, maybe a transaction coordinator, and one or two buyers agents, says Justin Letheby, trainer, speaker and coach with The John Maxwell Team. Some teams may also have an additional listing agent and a showing specialist who only conducts open houses and shows properties.
According to Jeff Cohn, CEO of kwELITE Keller Williams and the coaching company Elite Real Estate Systems, there are three basic types of real estate team structures, each with their own dynamic:
This team dynamic best describes a group of rainmakers who partner and share overhead expenses. Each agent is 100% reliant on their own sales and does not earn a percentage of the sales of the others on the team.
Like the CEO model, rainmakers must devote their energy on empowering their team. Too often, single team lead rainmakers have sacrificed their entire lives to real estate only to realize there's a better way. "They can choose to sell or focus on creating a true business," says Cohn. "Keep in mind that a business should be something that can grow exponentially without the lead being necessary to the direct sales."
Team leads who can live 100% off the revenue from their agents' sales and not their own, have created leverage through direct reports and could work less than 5 hours/week and still maintain and scale their business generally meet the CEO model. Scalability and leadership tactics with lead gen and lead conversion training should drive the CEO's mission. This team lead is typically a great people partner who can produce lead gen, support, training and accountability. Truly successful CEOs, Cohn says, will focus less on ego-driven endeavors to net high personal numbers and more on training, support and tech systems that raise the entire team.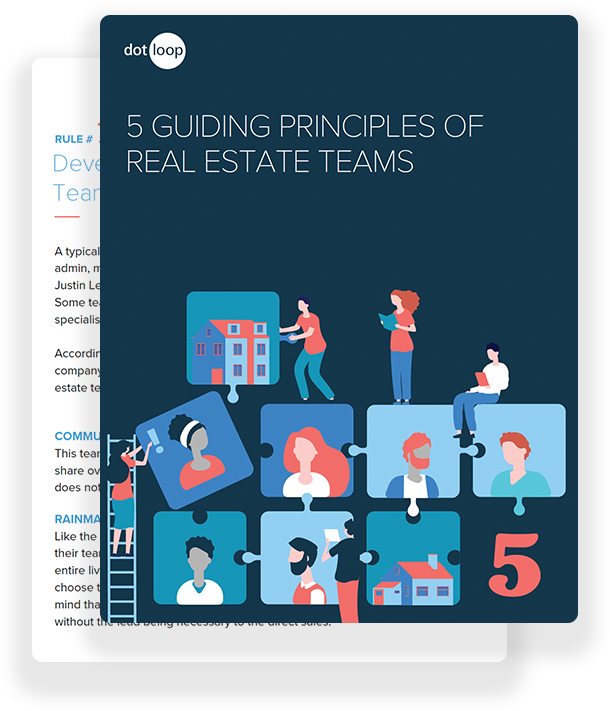 Download The 5 Guiding Principles of Real Estate Teams
Download and follow the principles in this free guide to help set you on the right path to building a rock-solid real estate team structure.
RULE 2 Don't Be Afraid to Fail Forward
As a team lead, it's important to let your new agents "make mistakes", or "fail forward," so they can learn from their setbacks and advance, says Cohn.
Veronica Figueroa, leader of the award-winning Figueroa Team, eXp Realty, Orlando, FL, agrees with this philosophy. "We all fall flat on our faces sometimes, but you learn so much from it."
One of the main reasons real estate teams fail is their failure to adapt when their business model is off course. Think of the one-time photography giant Kodak, a multibillion dollar enterprise that failed to adapt to the digital imaging trend arising in the late 1980s. When the once camera industry leader decided to get into the digital game, it was too late.
The same can happen to real estate teams. If you're still using archaic processes like a single eSign platform with no other transaction management processes, or worse, you're still filling out paper forms, it's time to adapt. Kyle Newman, leader of the Ultimate Realty Team, Glendale, AZ, has found the dotloop for Teams platform has helped with compliance and streamlined his team's efficiency by completing deals on dotloop's single end-to-end system.
RULE 3 Choose a Complementary Mix of Personalities
Whatever structure your real estate team assumes, don't make the mistake of hiring the same personality. The best real estate teams include a variety of personality types, including leaders and followers, go-getters and introverts. Many team leads turn to the DISC personality test when assessing new agent talent. An agent's sales DNA can speak volumes about how they interact with clients and other team members. A great body of information exists around the DISC Personality test, but, in summary, the D reflects the direct, strong-willed and forceful personality; the I represents the Influencer, who's sociable, talkative and lively; the S symbolizes the Stable or Steady type who's gentle, accommodating and soft-hearted; and the C represents the Conscientiousness one who tends to be private, analytical and logical.
Agents generally fall into some combination of the four basic types with a dominant and secondary trait, such as an SC, in which Steadiness is the dominant trait and Conscientiousness is secondary. "As a trend, we've found your best buyers agents are IS types, and your best listing agents and CEOs are Ds, DI and DC types, while SCs typically make the best admins and transaction coordinators," Cohn notes.
RULE 4 Embrace Coachable Moments
Agents on a team should always feel supported with plenty of opportunities to grow and expand their skill sets. Team leads can get creative with how they deliver those coachable moments, whether it's pairing agents with complementary DISC types and role-playing with scripts or dedicating success managers to work with agents on their goals every week.
Letheby likes podcasts, as a weekly audio broadcast with a motivational point to offer. Featured speakers are another great way to serve training and content in an alternative format.
"At my brokerage, every new agent becomes part of our Certified Advisor Program, or CAPS. This program is like a team that exists within the brokerage and is designed to provide the education, accountability, leads and conversion strategies necessary to help each agent make the most amount of money, in the least amount of time, with the least amount of energy. Once an agent has met the education and sales requirements of the CAPS program, they become a capper and keep 100% of their commission," says Cohn.
RULE 5 Set Ground Rules
All too often team leads complain about their top-producing agents leaving the team and taking their business with them. "In most of these cases, the ground rules were never set ahead of time," says Letheby. "There was no onboarding process or clear policies set."
As a team lead, make sure you establish ground rules and, depending on your state and association laws, clarify what business is the team's property and what is transferable.
In addition, every team lead should create a well-strategized business plan that they communicate to all team members. "Teams need to know the 'why.' Why are we doing this?" says Letheby. For instance, from a training perspective, it may be, "I will form a team and want to see people train and grow." Whatever the guiding principles of the team, they need to be spelled out in the business plan.
"The team lead is the beacon, but the light on top of the beacon is that business plan," says Letheby.
So is it a good time to start a team? "It's always a great time to start a team as long as you have the business to support it and the desire to build the systems," says Figueroa. "If you have the resources in place and opportunity to bless others with it, then you're ready."