How to Generate Real Estate Leads Year-round (Even During the Holidays)
Expert Tips on Working Your Sphere of Influence in the Down Months to Keep Leads Flowing All Year Long
+ FREE GUIDE: How To Create a Real Estate Sphere of Influence
In the spring and summer months, it may seem like there's no end in sight to the flow of leads. The weather's starting to warm, the holidays are behind us, and families are starting to look ahead to new schools and a new home.
While the closings accrue in March — historically the best month for quick sales — the bids well exceed the list prices in July, the best month for yielding the highest profit. But, right around September, as the kids start to head back to school and the holidays approach again, the pipeline begins to slow.
Given the current tight inventory, listings can be especially hard to land. Local conditions, including job growth, mortgage rates, tax incentives and, of course, the weather, all affect when a client chooses to buy and sell.
There are, however, ways to help keep those leads flowing during the up, down and in-between months.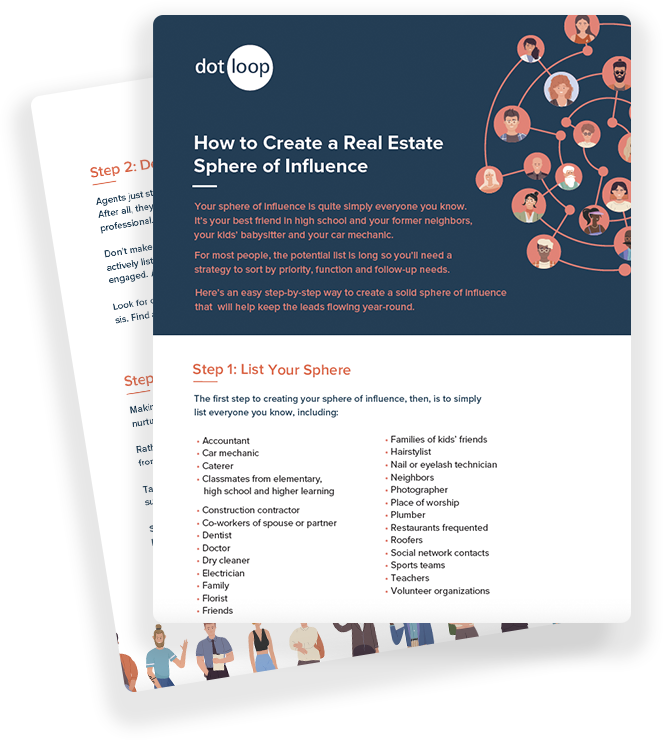 How To Create a Real Estate Sphere of Influence
Download this free 2-page guide and begin building your sphere of influence today.
No other group consistently generates leads like your friends, family, previous clients and colleagues. In fact, NAR reports over 60% of sellers found their agent through a referral from a friend, neighbor or relative.
Further, according to a survey of more than 400 financial planners, those professionals with the fastest growth were 68% more likely to gain referrals from their centers of influence.
Real estate agents are no different. At the center of every agent's sphere of influence lies the key to their next referral.
Some agents build an entire business around repeats and referrals by intentionally segmenting repeats and referrals into three or more categories. You might get inventive and customize the way you group clients to reflect the type and frequency of communication you'll deliver through your nurture campaigns.
The primary segment, typically comprising 30-45 contacts, is where your family members and closest friends can be found. Amy Broghamer of Amy B. Sells Real Estate Team – eXp Realty dedicates her A category to her most important personal and professional contacts, reaching out monthly with a personalized text or branded mailer card.
Her B group, numbering no more than 100, has typically done business with her in the past but may not have referred any business yet. These contacts may have attended an event or demonstrated interest in a previous listing. Vendors also typically take their place in this category, allowing her to stay in touch and learn of any changes to their business. Like the A's, this team's B's typically receive some form of one-on-one communication.
The C group includes all others — perhaps new acquaintances or those slow to engage. This group may receive some monthly communication, albeit less personalized or as frequent as the A's and B's.
To keep the categories organized and easily recognizable, devise a system. Visual aids can help. For instance, Broghamer organizes her phone contacts using emojis, such as hearts for As, pineapples for B's and so on.
Leads actively engage with agents who develop real personalized relationships with a human connection.
When you can't be there in person or on the phone, video offers a great way to personalize your message for birthdays and home anniversaries. BombBomb integrates with dotloop, allowing agents to automatically send a video on these milestone dates.
Or, using BombBomb's screen recorder, agents can connect with clients face to face over video to explain MLS data and view comps and contracts while the agent's face appears off to the side of the screen.
Mailers personalized with imagery can also add meaningful value to your sphere outreach. You might print pictures of your contacts from a holiday party as follow-up communication.
By maintaining and nurturing the connection in thoughtful ways, you'll help keep your name memorable throughout the year.
While the school season and traditional moving months usually dictate the busier months for agents, milestones like birthdays, anniversaries, work promotions and life changes occur year-round for your sphere.
Your social channels are the best informant of these events, with each channel segmented by a unique age demographic to help guide the marketing. Millennials favor Instagram and TikTok, while boomers remain faithful to Facebook and LinkedIn.
For Broghamer, social provides a convenient tool for staying up to date and commenting on what's happening in her clients' lives year-round. By making her A contacts "Friends" on Facebook, this team lead can simply click on her "Friends" list and it will populate the last 24 hours of their posts.
Here's a few pro tips for communicating on the different social channels:
Instagram: Use the free analytics tool in Instagram to identify trends in the types of posts your contacts engage with the most. Also, use the Business Profile with the swipe up feature to point prospects to your website.
TikTok: TikTok provides a great forum to send videos of introductions to prospective clients, especially millennials.
Pinterest: Highly visual posts get the most draw on Pinterest, which can help drive traffic to your site. Also, Facebook and Pinterest work hand in hand by allowing agents to invite friends on either channel to connect with the other.
Snapchat: Snapchat is a great forum for agents already active on the private platform to tell "behind-the-scenes" stories about houses you're listing or marketing ideas.
Twitter: According to Twitter, Tweets with video get 10 times more engagement than those without. Make it a practice to always post with pictures or video and don't forget to use local hashtags.
The holidays are traditional down months for real estate, but they're also a prime time for gaining referrals while showing gratitude toward existing clients with fun promotional themes.
For example, kids throughout the Cincinnati area look forward to Amy B.'s popular Halloween coloring contest every October and her team's Santa photo ops in winter.
Here are a few tips to keep in mind when planning your holiday client appreciation event:
If planning a large gathering with live music, let the band serve as your emcee and ask for referrals, taking you off the hook for self-promotion.
Rather than throw the expected holiday party, think of activities that your sphere will want to attend and bring their friends. Host an intimate dinner for 15 key prospects or organize a painting or cooking class.
Capture your holiday events with professional photography and video, then share the pictures on your social channels and in personalized mailers to clients as follow-up communication.
The best client gifts serve a function around the house or reflect something about the client or the community to which they've moved. Think Southern cooking classes for the couple who just moved to Atlanta or a digital keypad for the millennial techie. Gifts that are used frequently, like doormats, a beverage subscription or a personalized keychain will help extend the word-of-mouth well beyond the giving season.
Giving back to non-profits and charities in your community is a great way to expand your sphere during the holiday season.
Turn your favorite transaction management system into a holiday planner by assigning party-related Tasks to admins and agents in an itemized to-do list that will keep the party planning organized and on time.
New to dotloop?
Half a million active agents and over 10,000 Brokerages and Teams close more deals faster using dotloop, the leading transaction management software for real estate professionals.
A CRM can be a valuable tool for organizing contacts and prioritizing who needs communication at different times throughout the year.
Andrew Szatan, head of Marketing at Follow Up Boss, notes, "Slower seasons can be a great time to go through your 'stale' leads and find out which ones aren't so stale after all. Think of a couple of key traits of leads you tend to close. Then, run a list from your CRM to find leads that match, and come up with an outreach plan for them. Even if they're still in the early stages, holidays are a great opportunity for a friendly connection that keeps you top of mind."
Click here for more ideas on converting stale leads.
Of course, technology is only as good as its user, says Brandy Savage, Success Coach at dotloop integration partner Market Leader. "When robust enough and leveraged properly, a CRM will do much of the heavy lifting and allow an agent to engage their entire sphere automatically, from new leads to past clients," she says.
A CRM that automates marketing tasks saves time and energy, allowing agents to focus more on relationship building. Some of the marketing tasks a CRM can automate include:
Creating and sending marketing campaigns
Streamlining lead generation and management
Email marketing
Creating single property websites
Listing marketing
Social media marketing
While automation can ensure you are consistently staying in front of past clients, you may also use the downtime of these quieter months to ensure the outreach you're doing is actually building connections, not just transactions.
As you use your CRM system to retarget customers, spend time gathering feedback to better inform your outreach moving forward. This requires asking questions. How do customers like to hear from you? Do they find your newsletter valuable? What social media channels do they prefer? The key to all this is listening to the responses.
"Don't just chase the sale at every moment," says Dave Carter, VP at dotloop integration partner Chime Technologies. "By incorporating real feedback into your CRM-driven outreach and remaining authentic in your communications, you have the opportunity to build real connections and, in turn, your business."