How to Become a Local Real Estate Market Expert in 2021
10 Ways for Agents, Teams and Brokers to Master Their Market and Own the Local Real Estate Neighborhood
When Craig Beggins got his real estate license at 18, his father, a Tampa, FL, developer, told him to learn everything he could about the 83-acre, 300-lot Apollo Beach neighborhood where Beggins still calls home.
To this day, he can quote every lot size, setback, lot depth and block number. Need a referral? He knows all the local seawall and dock builders, contractors and every repairman who works in the neighborhood.
If you're an out-of-town buyer looking at waterfront properties, you may even score a tour on Beggins' boat to view the downtown district, a local eatery or two, and waterfront properties dotting Florida's redhot Tampa Bay coastline.
Since the Covid pandemic began, an agent's local area expertise has never been so in demand as bands of migratory homebuyers move to unfamiliar destinations. According to Zillow's 2021 Consumer Housing Trends Report (CHTR), about one in seven homeowners (15%) say they have plans to move and sell their home within the next three years, and 80% of listed homeowners cited "I want to live in a different neighborhood" as a reason for listing.
As more Americans move out of densely populated cities like New York City; San Francisco; Trenton, New Jersey; and Bridgeport, Connecticut, and into more sparsely populated places like Wilmington, NC; Boise, ID; and Florida's coastal communities, real estate agents will be under increasing pressure to dazzle clients with their local knowledge of fast-breaking property values, trending neighborhoods and connections to third-party providers.
Here are 10 tips to boost your local area expertise and help you get the edge over the competition:
Successful local area expert agents know they can't be everywhere at once. Instead, they pick an area and concentrate on that region to maximize their local knowledge and boost their name recognition.
"If you're too spread out over an area, it's going to be tough to be the go-to person. But if you're that person with a sign in the local yards, and locals are getting notifications from you informing that you just sold this property around the corner, your phone is going to start ringing and your email is going to light up because people are going to see that you know this market better than anyone else," says Clay Horan of Horan Rosenhagen Real Estate, Newport, KY.
The first step to becoming a local area expert, then, is to define your region within a geographic proximity that you can drive to within a reasonable amount of time for showings without sacrificing additional business. You should also have a great sense of all your neighborhoods' price points, trending developments and local culture.
Next, familiarize yourself with everyone and everything in your region, and farm the local area for leads and contacts. Clients will naturally gravitate toward an agent who has included them in their email newsletters and local social outreaches over the agent who's 45 minutes away and out of touch with local culture and property values.
"If you asked me to sell a house in Dayton, Ohio, I wouldn't be able to represent that person very well," says Horan. "But if you say, 'Go find me a house in Newport, KY,' and you name a street, I can probably establish a rough market value of what that house will sell for before seeing the property."
A competing agent without that local knowledge of Newport's historic "East Row" may not be able to discern the difference between the property that just sold for $600,000 and the one that sold for $125,000 just 150 yards down the street, Horan adds. But in a market where a quarter mile can make a huge difference in values, having that intimate, hyperlocal market knowledge is critical.
In Tampa Bay, where Californians and New Yorkers are paying cash for $800,000-$1M waterfront properties and some agents are fielding 100+ offers on a single house, Beggins has been telling his agents to drive less to showings and start navigating more Google Maps tours.
A 20-minute Zoom-led, Google Maps tour of the local community offers a great conversation opener for agents to demonstrate their local knowledge with out-of-towners before kicking off a search of the properties.
"Price-conscious buyers can't get into Tampa, so they have to go to the neighboring cities, like Dover, Mango and Hopewell. With a Google Maps tour, I can put them on the ground immediately versus a three-day wait for an in-person showing," says Beggins.
A video tour of the local area can also help agents establish local area expertise by leveraging social channels, websites and email newsletters. You'll want to hit the local hotspots, including parks, schools, trending and favorite neighborhoods, restaurants and retail.
In Templeton, CA, Elissa K. Williams of RE/MAX Success interviews local businesses and posts their stories and fan-favorite lists to Facebook, LinkedIn and YouTube.
"They might talk about their favorite coffee shops or wineries," she says. "It's a way for us to stay connected and involved in the community."
For your video, you might interview a local baker, school teacher or a young family who recently moved to the area to give newcomers a feel for the local culture.
Or, you might interview your own team or brokerage. Beggins and his broker/brother Jeff taped a six-minute video to promote the four strengths of their company with talking points that touch on Century 21, the franchise; Realogy, the parent company; Beggins, the brokerage; and the 400+ agents who comprise the eight-office enterprise.
While it can be tempting to try and cover a wide swath of territory, true local area expert agents know it's best to focus on the communities they know intimately and can drive to within an hour or so, then refer the rest to other agents.
"If you want to give value to the customer, you have to have local area knowledge and be upfront when you don't know an area," says Beggins. "For instance, we're not well-versed in sinkholes. So if we have a client who wants to buy in Spring Hill or New Port Richey, the agent better know about sinkholes or be prepared to say 'I don't know.'"
Distance between cities can also play an important factor for agents deciding where they might provide the most value. If you know your offer is one of 100, it might not make sense to drive the two to three hours across Los Angeles traffic if it's a neighborhood you don't know well.
Additionally, if you're new to the area, make a point of proactively driving the region and familiarize yourself with where the local growth is headed.
In Florida, Beggins is a waterfront expert who can quote you bridge heights, water depth, where the best restaurants are and how to get there. Within 10 miles of any one of the brokerage's offices, a buyer can select from equestrian estates, golf course properties, waterfront mansions or a mobile home park, with each of these vastly different property types requiring their own set of detailed knowledge.
On California's Central Coast, Williams and her team literally make it their business to know coastal luxury properties and vineyards. Their specialty was particularly helpful in putting RE/MAX Success on the map in 2020 when many Bay Area sellers were eyeing the Paso Robles region for greener pastures during the pandemic.
As illustrated by these two vastly different regions, the local environs often dictate the type of knowledge an agent must acquire to claim the badge of a local area expert.
Regardless of your market, new construction is creeping into more buyers' conversations as agents look to expand their buyer selection amid today's tight inventory concerns.
"Having good relationships with builders is essential," says Lisa Archer of Charlotte's Live Love Homes. "If I happen to be driving by and see a development that's started, I'll go in and tour it just so they can get to know me."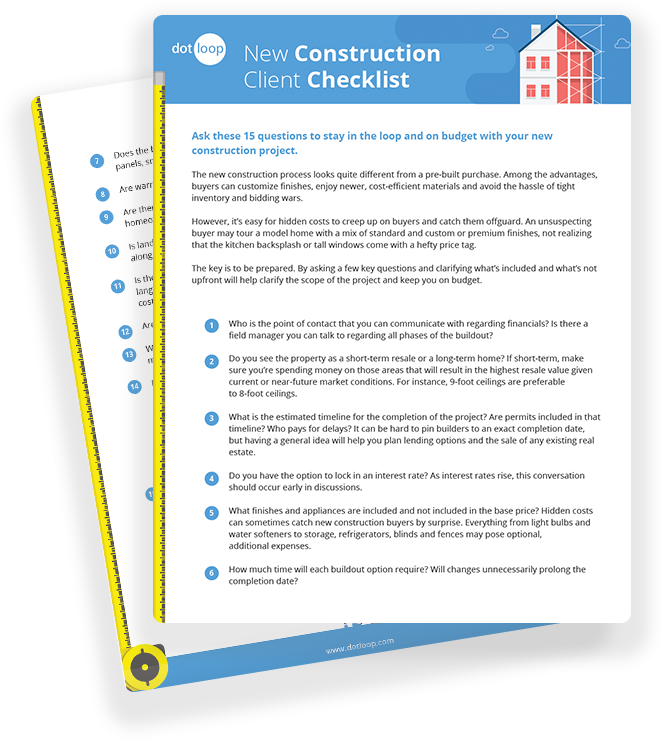 FREE:

New Construction Client Checklist

Share this 15-point checklist with your new-build clients to guide them through the process and instill trust every step of the way.
Establishing a well-trusted consortium of local area ancillary providers gives customers a convenient means of getting the deal done faster while building loyalty with the agent.
Knowing that "the wrong lender can complicate the whole transaction," Horan sends a list of loan officers to buyers if they're not already pre-approved.
Beggins has also built a team of lenders, including a home renovation loan specialist for those who need to borrow renovation money upfront in their finance package.
While Horan Rosenhagen Real Estate doesn't own a mortgage or title company, the brokerage recently opted to bring property management in-house. This arrangement helps the agents generate leads among future buyers and stay informed of market changes while providing a service for income property buyers who don't have the expertise or desire to manage tenants.
"The property management piece can now answer that," Horan says. "We'll sell you real estate and can help you manage these properties. Then when the owner wants to sell or buy another property, that property manager, who's a licensed agent, is their first point of contact who can reach out to our network or put it up for sale."
"Typically, people who own multi-family properties have several investment properties and are in the know of what's going on around town," says Horan. "This helps you stay front and center with that information."
Not only does a solid third-party network build trust and offer convenience and efficiency for clients and agents, but the partnerships agents create with ancillary providers in finance, insurance, title and construction will help move the transaction forward and make it easier for the agent to stay connected with clients.
Once you've built a solid base of third-party ancillary providers, add a directory to your site to share with clients and feature a local business in your monthly blog. Also, make sure to share your contacts on dotloop's Trusted Service Providers in the People section, where you can add brokerage-level providers that will appear in all agents' loops using an admin profile.
Of course, clients today can access lots of information about local schools online; but, with schools remaining a top concern among many parents, agents are often asked for their opinion and any details they can offer.
However, as Archer points out, agents will want to avoid "steering" buyers toward or away from a specific school, which may present a violation of the Fair Housing Act. Instead, she sends clients inquiring about the local schools to greatschools.org and features the site's school ratings on her Live Love Homes' listings and app.
Rather than rank and refer schools, try getting involved in the local schools. Horan Rosenhagen Real Estate, for instance, offered internships for local high school students before the pandemic, training at least one bright star on how to use their CRM, perform a market analysis and maintain the database.
Internships and fundraisers offer great give-back opportunities for teams and brokerages while building relationships with local schools and parents. You might also sponsor a local sports team or the Boys and Girls Club with either an ongoing or one-time donation.
Many agents who consistently add value to their clients' home search send weekly or monthly email newsletters with helpful market content and data as well as SEO-optimized blog posts featuring local favorite restaurants and shops.
House-hunters and prospective sellers readily absorb content that posts a local area's average price points; price per square foot; sales price over listing price; six-month forecasts; information on the hottest trending home features; and, of course, agents' recent sales.
Concentrate on quality over quantity to create a strong local following; post new, original content frequently to keep clients coming back to your site; and don't forget to include hashtags to make it easy for locals to find your posts.
Community outreach to local non-profits is another wonderful way for agents, teams and brokerages to give back to a local community while building their spheres of influence. Archer's team has been involved in the Leukemia & Lymphoma Society for years, raising approximately $3 million in 2019 and resulting in Archer being nominated for Woman of the Year.
Laurie Finkelstein Reader of South Florida also knows the value of giving back to her community, where her parents sold real estate for 40 years before Reader evolved to sell well over a billion dollars in sales volume and joined the top half of 1% of Realtors® in the U.S.
For about the past nine years, Reader's team has raised funds and supplies between 200 to 400 backpacks for Title 1 local schools. They've also been involved in an annual Thanksgiving pie distribution and participation in The Color Run, a diversity-promoting 5K in Ft. Lauderdale.
"It takes years for a community this large to trust you," says Reader. "Miami is a really big area, but we're very local. People know who you are and what you're about, and you have to do what you say you're going to do and be consistent and always put the consumer first."
You might organize a fundraiser that gives back to the local shelters and the less fortunate. Whatever cause you embrace, make sure to take plenty of pictures of volunteering opportunities and socialize your involvement with local non-profit activities on your Facebook, Twitter, TikTok and Instagram channels.
According to Archer, families new to the Charlotte, NC, area appreciate her agents' ability to quickly pull up a template with all of their local forms, due diligence, earnest money and warranty documents in seamless transaction management software.
When a client is ready to make a move on a home, Archer activates her team to create a listing within minutes or send an offer to the listing agent before the agent and client have even left the driveway.
"We can be in multiple offers and, wherever I'm going, my clients have already signed the documents, and my director of operations has already sent it to the listing agent," says the long-time dotloop user. "This is the benefit of working with my team. Our tech is the perfect way for us to introduce our clients to the transaction system and show them how efficient and fast we are."
At the end of the day, local area expertise circles back to relationships, and one of the best ways to build those relationships is getting involved in your community and mastering your neighborhood knowledge.
As Thompson notes, "People do business with people they know, like and trust."
According to one Zillow Housing Market Trends Report, 62% of all buyers say that a real estate agent's local market knowledge is their primary evaluation criteria, followed by a visit to an agent's brokerage website, asking a friend or family member about their experience with an agent, and reading online reviews.
How well do you really know your local area? Take this 5-question quiz and test your "local area IQ."
The numbers can vary widely across the U.S., but, according to NAR, Realtors® completed a median of 10 residential transaction sides in 2020. In general, agents who are closing 10-20 or more houses in their local area in one year are looking good as a local real estate expert candidate.
Relationships aren't built alone on periodic "check-in" calls, in which agents constantly query buyers and sellers about their motivation to move. Rather, relationships are cultivated by agents who stay in regular contact with their local residents over the course of home ownership to build true, meaningful relationships.
For example, if you buy and sell in a region where it snows, can you cite the average snowfall volume at a particular altitude? Or if you live in a wine-growing region, can you speak intelligently about the local viticulture from climate change to soil conditions? Understanding the finer nuances of what makes your community different will help distinguish you among a competitive field of agent candidates.
Your website is a surefire way to attract clients who are shopping online for a well-versed local real estate agent. Post videos of local business owners. Build a third-party network of ancillary service providers. Get involved in local philanthropy and blog about it. For more ideas, see above for "10 Ways to Master Your Market."
This is where agents can provide true value to buyers by saving them hours of online searching, but it can take months, or even years, of experience pricing homes and researching the details.
If you can answer "yes" to all 5 of these questions, congratulations! You scored an A+ on your "local area IQ." Three or fewer questions? Keep cultivating new relationships with local residents, other agents, service providers and builders, and soon you'll be scaling the ranks as one of your neighborhood's top, go-to agents.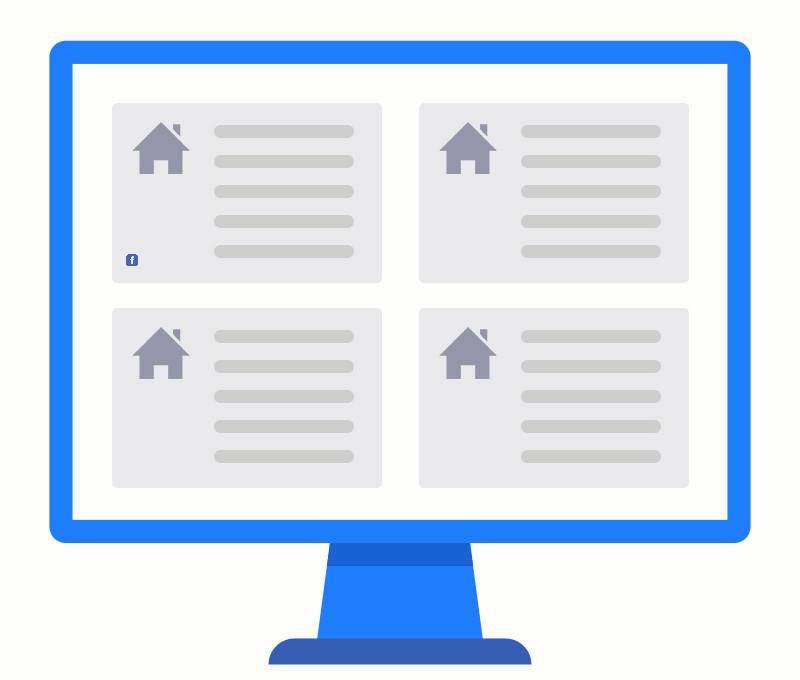 Streamline Transactions
Dotloop Business+ and dotloop for Teams gives you real-time visibility into your business through built-in reporting and instant notifications for updates on the status of any transaction with one log in, one screen.