How Can New Construction Help Agents in a Tight Market?
Expert Advice on Working with Builders
FREE DOWNLOAD: 15-Point New Construction Client Checklist
With the average market running at 1 ½ month's supply and some as low as 0.4 month's supply, today's inventory is the lowest that new home construction expert Kimberly Mackey has seen in her several decades in the business.
"Couple that with historically low interest rates, millennials getting into the market, the pandemic and people working from home and it's really created a ripple effect," says Mackey.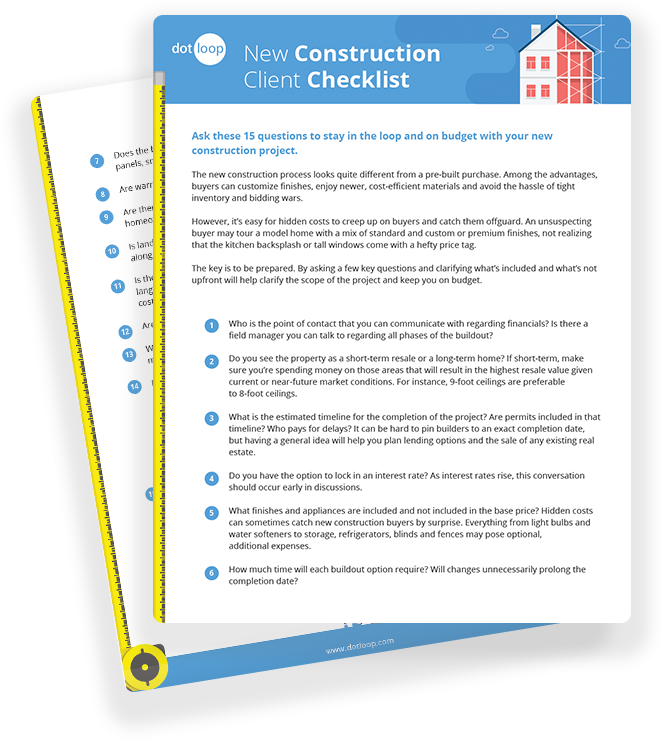 FREE:

New Construction Client Checklist

Share this 15-point checklist with your new-build clients to guide them through the process and instill trust every step of the way.
While, historically, 15% of buyers have been willing to consider new home construction when asked, a National Association of Home Builders (NAHB) survey conducted in December 2020 found that percentage has actually jumped to 41% of prospective buyers looking for a newly built home.
Low inventory and relatively low interest rates have catapulted new home construction across the country. According to the NAHB, single-family home construction is up 16% from a year ago. Despite rising lumber costs and interest rates, as well as growing concern over regulations resulting in an early-year softening of new starts, the NAHB forecasts a strong return to the long-run post-Great Recession trend as the year progresses.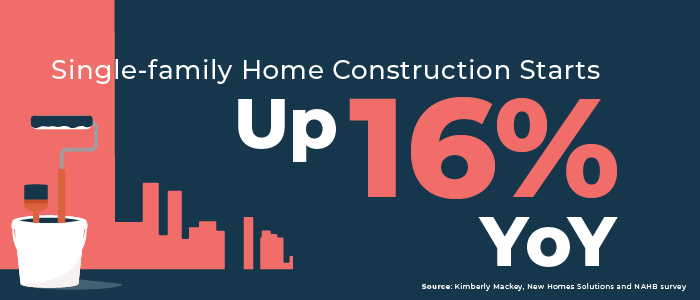 The new construction boom has been particularly felt in the Western and Southern regions of the U.S. In Florida, for example, new home sales are on fire due largely to the huge influx of people moving to the Sunshine State for its weather, low tax rates and relatively low housing prices.
Florida buyers are also attracted to the energy savings and solid construction of new homes built to code, especially considering the state's history of hurricanes. "In Florida, where energy codes are higher and you have the latest in hurricane codes, you're going to get hurricane strapping in garage doors, windows and wind mitigation built in to new construction," says Mackey. "With Hurricane Michael several years back, we saw everything demolished, but the new homes were standing. That was an extreme example in an older community, but it was amazing the difference in how new construction stood up."
With energy savings for new homes as high as 50% and greater insurance savings, the cost of ownership is often lower than those on the resale market. "Total cost," Mackey reminds, should be a key topic of conversation between agents and buyers.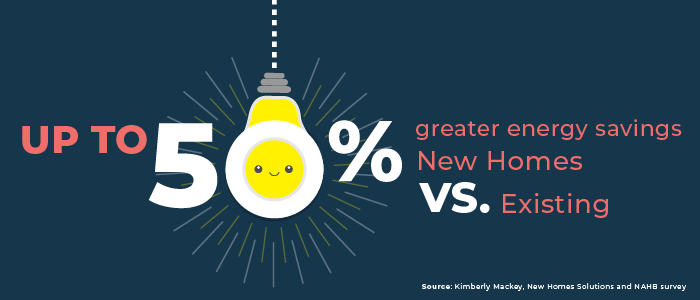 As with everything in real estate, new home construction is relationship-based. The first step for agents who want to take advantage of new home construction, therefore, is to get educated by reaching out to their local home builders.
"Knowledge is power," Mackey says. "It's networking, knowledge and understanding that it's a partnership with the on-site agent. When the general agent brings a buyer to the on-site agent and allows the on-site agent to build a relationship with the buyer and thoroughly understand the wants and needs of that buyer, they can help them really quickly if they have the product to meet the need."
While many general real estate agents want to prove their value to the customer and may be reluctant to hand over their hard-won buyers to on-site agents, Mackey says buyers agents can actually play an instrumental role in the process by facilitating the relationship, helping with the mortgage process and supporting the buyer at the walkthrough to answer their questions.
"The general real estate agent wants to hold back because they're so used to holding back in the sale, but the more information you can give the on-site agent, the better they are able to help that buyer and close the sale," Mackey says. "It's one of the easiest sales that a real estate agent will make, but they have to trust the on-site agent and allow the on-site to be the product expert."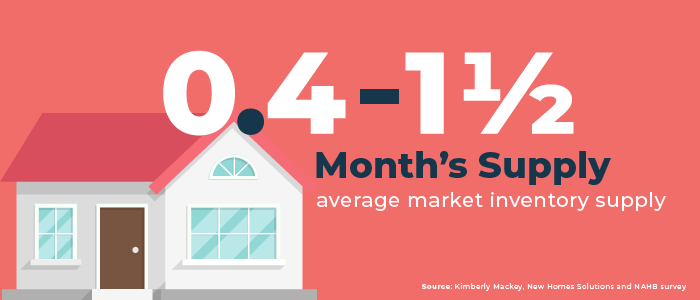 For agents who want to connect with new home builders but don't know where to start, Mackey recommends reaching out to local builders and telling them you're interested in learning more. "Ask if there's someone I can shadow or sit in on a frame walk so I can learn more. Reach out to those onsite agents and say, 'Let's discuss how we can work together.' But you have to spend the time and know it is an education process."
Lastly, don't be afraid of new homes. "Demystify the process," Mackey says. "It's really cool when you look at a piece of dirt and then that becomes someone's home, especially now when we realize how special home has become to all of us."