COVID-19's Impact on U.S. Migration
With today's low interest rates, tight inventory and remote-based work, the nation is feeling the change from cities to suburbs
FREE INFOGRAPHIC:

America on the Move

Four weeks prior to news of the COVID pandemic, California broker Daryl Rogers conducted a training series showing how many people were ditching their cars and moving to the cities where they could access mass transportation, shop and dine within walking distance of their homes.

A month and half later, he discovered "that theory was completely wrong" and the trend had completely reversed as more residents from San Francisco started showing interest in his rural region three hours to the east of the Bay Area.

Five months later, the outbound traffic from San Francisco continues with more buyers seeking the extra space and lower prices offered by nearby rural and outlying suburban areas such as Sacramento, where more than 72% of home searches now source from San Francisco.

In the span of a few months, home values in the country's two most expensive real estate markets, San Francisco and Manhattan, have dropped 4.9% and 4.2%, respectively, as homeowners turn toward less expensive cities like Sacramento, Austin, Phoenix, Atlanta and North Carolina's Raleigh-Durham to find more space for less mortgage.
San Francisco, which saw multiples on million-dollar listings for years, experienced a whopping 96% rise in inventory, as Manhattan's luxury real estate market hit an all-time low with co-ops priced $4 million to $10 million down over 75%, according to a July report by Miller Samuel and Douglas Elliman.
But not all of the nation's large cities are experiencing the mass exodus as some first imagined. Zillow's 2020 Urban-Suburban Market Report noted that, in but a few cases, urban and suburban markets have shared similar changes in recent above-list prices, days on market and annual home value growth rates. So what's driving the change?
There are several factors fueling the moves, including low interest rates and buyers looking for more space as many transition to a work-from-home setup.
The pandemic's effects on employees have arguably resulted in the most rapid and sweeping changes to the global workforce since World War II. A shift to remote work operations has also fueled 2020's rapidly changing migration patterns unlike any seen before.
One survey by MIT researchers earlier this year estimated the share of remote workers in the U.S. quadrupled to nearly 50% of the workforce, and an Upwork Future Workforce Report, which polled 1,500 hiring managers, found that 56% of hiring managers felt the shift had "gone better than expected" with more than 60% noting their employees will be working remote moving forward.
As remote work becomes more commonplace, proximity to mass transit in city hubs has reversed course from a major factor attracting affluent, young people to an asset devalued as a main source of commuting.
Zillow's Director of Broker Relations Matt Hendricks points to San Francisco and New York, where rail and subway largely dictate how people get around. Now with COVID stoking fears of crowded spaces, public transit is largely avoided and taking a backseat to other factors drawing buyers to new locations.

"We have all this pent-up buyer demand compressed and compounded by 30% lower inventory and historically low interest rates. There are so many buyers who want to buy who cannot. Ordinarily, we would expect to see a drop due to back to school, but everything online points to no dropoff."

Matt Hendricks
Zillow Director of Broker Relations
Remote work employment is also spurring homeowners to take a longer look at connectivity in their homes. Take for instance, NAR's Work From Home Score, which rated the nation's best cities for work from home by examining factors that best support remote working situations, including internet connectivity, office-related jobs, home affordability and population growth. Of the 3,142 counties in which NAR estimated a work-from-home score, Southern states comprised more than half of the top 20.
With historic low 30-year fixed interest rates, homebuyers who may have been sitting on the fence prior to 2020 are now feeling empowered to shop. According to Tim Lucas, editor of The Mortgage Reports, rates have hit a new record low of no less than nine times in 2020. September held the lowest rates of all time with an average 30-year fixed rate down to 2.86%, according to Freddie Mac.
Rates aren't expected to rise to any significant level this year either. A survey by The Mortgage Reports of Fannie Mae, Freddie Mac and the Mortgage Bankers Association found the 30-year fixed rate mortgage is likely to average 3.18% through 2020. As Hendricks notes, "interest rates would probably have to rise up to the 6% or 8% level to become a concern."
On the other hand, low inventory appears to be a nationwide issue with little relief in short sight. According to NAR's Existing Home Sales Report, total housing inventory was down 18.8% YoY as of June. With the housing market undersupplied by an estimated 3.3 million units, shortage is rising by about 300,000 units a year. The most under-supplied states include Oregon, Colorado, Florida and California, followed by Minnesota and Texas, according to Sam Khater, Chief Economist at Freddie Mac.
"More than half of all states have a housing shortage," Khater reports, "and the shortage is no longer concentrated in coastal markets but is spreading to the middle of the country in more affordable states like Texas and Minnesota."
So why is inventory so low? Several factors seem to be at play. One, current homeowners are staying in their homes longer. According to NAR, historical data shows that an average stay in a home hovered at six years for more than 20 years, but the length of time started trending toward nine to 10 years after the housing bubble of the mid 2000s as homeowners attempted to recoup their equity. Since 2008, the median tenure for sellers has increased to 13 years.
In response to the low inventory rates coast to coast, more home buyers are now considering new construction as an option. In fact, according to Zillow, views on new construction homes increased 83% YoY in June and 72% YoY in May versus 15% in February.
All told, these factors — tight inventory, low interest rates and changes rooted in remote work — are driving the sellers market. "Never before has this perfect storm of factors come together at one time," says Hendricks. "We're definitely writing a new chapter in history."
The new migration across the U.S. has mostly affected young people ages 18-29 with almost 27 million, or more than half of young adults — a first since the Great Depression — living with their parents over the month of July, according to a Pew Research Center analysis of U.S. Census Bureau Data.
Pew research confirms what many have observed firsthand: One in five young adults has either moved or knows someone who has moved as a result of the pandemic. The South saw the greatest increase, while the Northeast saw the heaviest concentration of young adults (57%) taking up residence with their parents.
Between college shutdowns, unemployment and resulting financial issues, young Gen Zers and millennials have been hard hit, resulting in a new wave of multigenerational households across the country.
The great migration among young adults also certainly explains why so many renters have vacated their urban apartments. According to a survey published in June by Apartment List, 25% of the nation's renters are more likely to move in 2020 due to the pandemic, particularly urbanites in dense cities and those who have experienced layoffs.
While some headed for their parents' homes in the suburbs or rural areas, a separate Apartment List analysis found that in the three months following the onset of the pandemic, renters searched for homes in cities even denser than their current city dwellings with a large share of search traffic even flowing from the suburbs to the cities.
However, the latest analysis from the apartment search site, reflecting millions of renters' searches from April 1-August 10, 2020, found that across the nation's 50 largest metros, relative inbound moves dropped while outbound traffic stayed the same year over year.
San Francisco, for example, reflected the second highest relative inbound migration prior to COVID but experienced the largest decrease in the same April-August period of 2020.
Indeed, tech hubs like San Francisco are feeling the pinch as more tech companies relax their work-from-home policies. What were once hot tech markets on a tear have now cooled their heels in the wake of COVID as young urbanites either shop the reduced rents locally or look toward less pricey secondary hubs, like Sacramento, a trendsetter city leading the charge of affordable outlying metros.
San Francisco is not the only tech hub experiencing relative pauses on the inbound rental traffic. Denver, Raleigh, Austin, Nashville, Seattle and San Jose all saw significant drops in inbound migration with remote work policies driving the stall in rental growth.
Hope and expectations of the virus receding may also be influencing the trend. During May when the pandemic was surging, nearly 40% of the survey respondents said they were likely to move from their city because of coronavirus, yet that number dropped to 26% at the beginning of August. (Learn more about what millennials want in real estate agents.)

"New York City is not dead. Short term, it will be slow. But it will recover. Indeed, I'm already seeing people circling the city, asking me about whether it's a good time to look for that pied a terre. I tell them to wait until February."

Joseph Rand
VP of Innovation
Howard Hanna | Rand Realty
While the Western U.S. has experienced a mix of inbound (Idaho, Arizona) and outbound (California) traffic, moving services' data suggest a more uniform pattern in other regions. Many Northeastern states (New York, New Jersey), for instance, saw an outbound flux, while Southern states including Tennessee, Texas, Florida and South Carolina witnessed big inbound trends.
According to Zillow's 2020 Urban-Suburban Market Report, Southern suburban homes are spending less time on the market than urban homes with the opposite holding true in the Northeast, though some of these regional discrepancies could be attributed to supply-side constraints.
The patterns confirm many of the migration trends that were already in motion prior to the pandemic. "I think that the people who are moving were going to move anyway in 2021-22," says Joseph Rand of New York-based Howard Hanna | Rand Realty. "So what we're really doing is accelerating those decisions, prompting people to get out now rather than later. They were already on the fence, and COVID pushed them over. But I don't see COVID pushing people up to the fence and then over."
In North Carolina's rising tech hub of Raleigh-Durham, known by some as the "Silicon Valley of the East," Quentin Dane, owner and broker of The DASH Realty Group, says a guaranteed sale-over-listing is still a home that's priced right in the urban core, but he's starting to see sales picking up in the suburbs.
"A two bedroom condo selling for $300 or $400 per square foot in Raleigh used to be reserved for inside the beltline," Dane says. "Prior to COVID, we never saw anything touch over $300 a square foot outside the urban core. Now we are."
In fact, a number of cities on the periphery of major metros are picking up ex-urbanites in locations like Sacramento; Riverside, CA, on the inland border of Los Angeles; Richmond, VA, located about 100 miles south of Washington, D.C.; and Philadelphia, attracting telecommuters from New York and Washington, D.C., according to Apartment List's latest 2020 survey.
Agents may be seeing an uptick in suburban searches as well. In a NAR 2020 Market Recovery Study, 2,000 real estate agents surveyed in June reported a shift in homebuyers' searches, with suburbs (47%), rural areas (39%) and small towns (25%) accounting for the largest draw versus urban cities (14%).

"With the interest rates as low as they are, I believe this spring market may carry us well into next year with next spring as strong as any market we've seen in the past 10 years."

Quentin Dane
Owner & Broker
The DASH Realty Group
Some experts view the migratory patterns that we're witnessing now — particularly the outbound flow from major metros like New York City and San Francisco — as temporary. William Frey, a Brookings Institution senior fellow and a demographer with four decades of experience, suggests big cities like New York will make a comeback, as he reports, "These recent population shifts, if real, will be short-lived and change when the pandemic subsides."
Rand, whose firm services both New Jersey and New York counties, agrees. "New York City is not dead," he says. "Short term, it will be slow. But it will recover. Indeed, I'm already seeing people circling the city, asking me about whether it's a good time to look for that pied a terre. I tell them to wait until February."
As Susan Wachter, professor of real estate and finance at the Wharton School of the University of Pennsylvania, reported to Bloomberg News, "Cities have had the power to draw, and will continue to have that power to draw job growth," she said. "Hence for the long run, I expect that there will be recovery."
Many agents and brokers share an optimism that the unprecedented buyer demand we're experiencing now could last for some time past 2020, with many forecasting a heatwave of buying activity into next spring.
BHG | Reliance Partners' Daryl Rogers, whose brokerage services the rural outskirts of Sacramento, says, "My gut says that this is not a 2020 thing as far as people moving up this way. I think it could be a long term — a two- to three-year effect that will most likely push many locals out of the area as they are outbid by the Bay Area buyers moving up here. There is just too much competition right now to assume that one or two small things could slow the rush."
Dane agrees, adding, "The multiple offers that are happening now are so atypical. Everyone knows that real estate slows down in an election year, but I'm already hearing many customers say they want to buy and want to sell and they don't mind waiting until after the election. All the batters are on deck, and we have some sluggers. With the interest rates as low as they are, I believe this spring market may carry us well into next year with next spring as strong as any market we've seen in the past 10 years."
Hendricks notes that as long as inventory rates remain low, few factors stand in the way of the continued buyer demand. Any resurgence of the virus or implementation of widespread, long-term work-from-home policies for U.S. workers is only likely to increase the demand.
"We have all this pent-up buyer demand compressed and compounded by 30% lower inventory and historically low interest rates. There are so many buyers who want to buy who cannot. Ordinarily, we would expect to see a drop due to back to school, but everything online points to no dropoff," says Hendricks.
A rise in mortgage forbearance defaults will only add supply to the desperately needed inventory and sustain the buyer frenzy without having any significant adverse effect on the overall real estate market, he says.
"We're such an appreciating market," Dane adds, "the homeowner who gets in trouble has a rip chord, a safety net with enough equity built up over the last couple of years, it's fairly easy to pull and get out of trouble, so I don't see mortgage forbearance posing a problem."
In NAR's 2020 Market Recovery Study, the majority of the 2,302 agents who responded said they expected that within the next year the demand for Zoom and other video technology, virtual tours, live virtual tours and virtual open houses will rise, while 19% expect virtual open houses to decrease.
When asked how prepared they felt to weather a second wave or continuing threat of COVID-19, 39% of agent respondents said they felt "somewhat prepared." Are you prepared?
If you're like most agents working a hot sellers market, there are additional steps you can take now to capitalize on the current and coming demand. Dotloop's digital transaction management platform, for instance, helps expedite buyers' offers on hot listings with many timesaving features, including a mobile app offering a mobile doc scanner and Messenger, a texting features that allows agents to share and eSign contracts, get instant notifications and, as Atlanta's Metro Brokers COO Craig McClelland says, "give the agent the flexibility to write an offer in minutes and send it to the listing agent before the customer has even left the house."
The real estate market is changing faster this year than perhaps any time in modern history. Stay ahead of the curve with digital tools that keep pace with consumers' demand for seamless technology that keeps you — and your customers — one step ahead of the competition.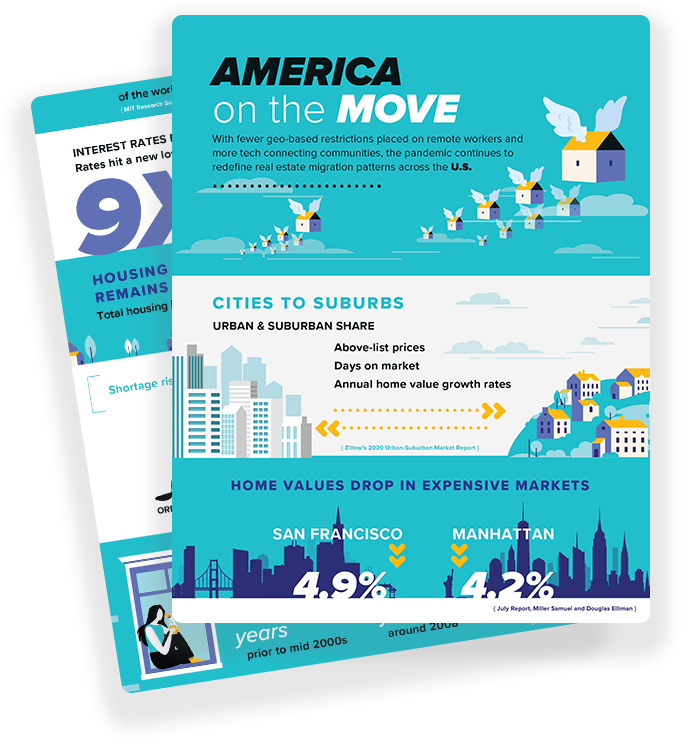 FREE INFOGRAPHIC:


America on the Move

Download this free infographic to better understand the key factors behind how COVID-19 is driving new real estate migration patterns in the U.S.