How to Help First Time Homebuyers Get the House in Today's Tough Market
At a time when millennials are aging into their prime home-buying years, many won't be able to buy a home, if a recent poll of housing expert predictions proves true.
In fact, it may take until 2024 for first time home buyers, who comprised 43% of the market in 2020 yet only 37% in 2021, to recover their pre-pandemic levels, according to Zillow's Home Price Expectations Survey conducted earlier this year.
With home values rising 32% over the past two years, interest rates creeping around 6% and total inventory falling from 1.6 million units in 2019 to about 1 million in 2022, first-timers are finding the market challenging, at best.
However, there are many ways agents can help a first time home buyer get into their dream home, or at least a starter with promise, in this high-value market.
From helpful tech tools that compare comps to financing options designed to offset steep down payments, these 17 pro tips might help you unlock that first home for your first time buyers.
17 Tips to Help First Time Home Buyers Get a Loan
1. Share Lender Info.
As soon as your first time home buyer finds a home in which they want to make an offer, you can help expedite the preapproval process by opening a loop in dotloop and sharing your third-party Trusted Service Providers lender information with them directly from the transaction management system.
Securing a full, underwritten pre-approval prior to making an offer is critical to competing in today's seller's market. Prequalification gives the agent and buyer clear parameters around their range of affordability while letting sellers know that the buyer is serious and has the sufficient credit and finances to close. Prequalification also helps catch any adverse credit marks early in the process, which, in turn, can help avoid higher interest rates.
2. Give the Heads up to Lending Docs.
To qualify for a loan pre-approval, your first time buyers will need to gather several documents. Avoid a last-minute scramble and help guide them through the process by advising them to start collecting the needed documentation. Some common documentation requirements include:
Proof of employment, including pay stubs and tax returns from the past two years
Bank and investment account statements from the past 90 days
Previous addresses of residence and current landlord's contact information
3. Apply the 28% Rule.
A common mantra among lenders is the 28% rule. That is, a buyer's mortgage should not exceed 28% – or, more conservatively, 25% – of their monthly gross income. Here's a simple equation to help your first time buyers estimate the basic affordability of a home:
Monthly Gross Income x 28% (or lower) = Estimated Home Affordability
4. Use Messenger to Text Hot Listings.
According to Zillow Consumer Housing Trends Report Data, 80% of respondents ranked responsiveness as a highly prioritized top agent characteristic. Millennials, Gen Z and Gen X – the majority of first time home buyers – typically prefer texting over email for communication. To improve your response time, try using dotloop's in-app Messenger, which lets you easily text docs, collect eSignatures and even group-chat to get a jump on the competition and keep the deal moving.
5. Research Sellers' Motivation.
Proactive buyers' agents do their homework to uncover the seller's motivation. While higher offers often win the deal, agents are sometimes surprised to find other motivating factors are key to the sellers, such as a quicker close or, in some cases, a longer close to accommodate school schedules and new construction. These motivating factors can play into a first time home buyer's strategy by pushing the move-in date or removing contingencies where possible.
6. Minimize Contingencies.
In today's market, first time buyers can't afford to demand too many contingencies when the competition is submitting cleaner offers that minimize the due diligence period. Sellers hate to risk buyers backing out of the offer during this time; so, the shorter the period, the less potential time the house will be off the market. Streamline the appraisal and lending contingency periods to avoid lengthy waits. Having a solid relationship with lenders will help your client stay on track during this process.
7. Offer More Earnest Money Upfront.
When sellers compare offers side by side, those willing to pay a higher earnest money deposit signal to sellers their seriousness to move forward with the deal. You can help expedite the process by sending a request to the buyer directly through dotloop, asking the client to send their deposit digitally using Earnnest.com. Earnnest avoids the hassle of managing paper checks with a safe, secure and speedy digital deposit.
8. Compare Offers with Dotloop's Buyer Net Sheet.
This comp comparison tool makes it easy to compare offers and it's located right on your dotloop platform so you can easily share the information with clients. The interactive template provides buyers with a detailed auto-calculated list of the expenses associated with purchasing a property.
9. Plan for the Down Payment.
Steep down payments present a significant barrier to numerous first time home buyers, as lending terms and market conditions still favor a 20% down payment. However, first time buyers can access tax breaks, state programs and federally backed loans and discounts, such as HUD's Good Neighbor Next Door program for teachers, firefighters, law enforcement and EMS. The program offers 50% off the listed price for those who qualify.
Also, Illinois, Ohio and Washington are just a few of the states offering financial assistance with down payments, closing costs and home improvements. Check with your state housing commission or authority for more information.
10. Save for the Down Payment.
Agents may help clients clear the down payment hurdle by informing them about the following programs:
If the buyer is considering buying over the next 1-3 years, then high-yield, FDIC-backed savings accounts offer one option.
Other options include low-yield accounts such as: certificate of deposits (CD); fixed-income investment portfolios; short-term bonds
Some IRAs and Roth IRAs offer first time home buyers penalty-free withdrawals up to $10,000 to help with the down payment. By using the cash from the retirement account, the buyer in turn pays income tax on the amount withdrawn.
If the offer isn't until six months to a year away, financial advisers suggest buyers stay agile and keep funds liquid.
For more information on the above and different loan programs, see Zillow's First Time Home Buyer Programs guide. In all cases, customers should check in with a tax professional about the various options.
11. Initiate an Escalation Clause.
If you determine that price is the top motivating factor for the sellers, an escalation clause can be a powerful weapon for your first time buyers. Here's how it works: In the offer, you agree to match any other bids that exceed yours by a certain capped amount.
For instance, your client might bid $200,000 on a home and provide an escalation clause with an offer to exceed a competitor's bid by 5% and up to a capped amount of $250,000. If the competitive bid is $220,000, your client would pay $220,000 + $11,000 (5%) = $231,000. You can also present a flat rate versus a percentage – just make sure to include a cap so the offer isn't open-ended.
12. Avoid Bad Credit Surprises.
Nothing is more disappointing to the first time home buyer than finding their dream home only to discover a poor credit mark will jeopardize the sale. Advise first time buyers to request credit reports from all three credit bureaus (Equifax, Experian and TransUnion) to correct any credit errors before house hunting. Like credit, a large debt loan can easily derail an otherwise great offer. So can smaller, seemingly benign factors, like time of hire at a job or making a big purchase before the loan has closed.
13. Shop Energy-Efficient Programs.
HUD's Energy Efficient Mortgage program can assist homeowners to finance improvements that will help them save on future energy costs. First buyers will need to qualify for a FHA-backed mortgage for a principal residence, but the costs of the improvements are added to the total loan, and the borrower needs to qualify only for the amount to purchase the home – not the total loan.
14. Consider Low-Income Assistance.
Agents and buyers should also be aware of homeownership vouchers through HUD's Housing Choice Voucher (HCV) program, which provides subsidies for first time home buyers by allowing those who have received public housing assistance or meet low-income requirements to apply vouchers toward the purchase of a property.
15. Talk to Multiple Lenders.
Buyers often go with the lender who pre-qualified them for a loan. Yet, it can pay to research options at the pre-approval phase, especially when interest rates are fluctuating. Many mortgage programs offer loans with 3-5% down versus the conventional 20%. Further, some loans and grants will cover these costs. In fact, 16% of all programs provide special incentives for veterans, active military, doctors, firefighters, educators and healthcare workers. Help guide customers to down payment assistance through this free tool on Zillow.
16. Weigh a "Love Letter."
As noted above, not all sellers are motivated purely by money and some buyers' agents maintain that sending a short note may help their clients gain an edge in an extremely competitive bidding war. For instance, sellers might be moved by one buyer's plan to not flip their long-owned house. However, buyers and agents contemplating such a letter should proceed with caution as it's illegal to reveal any information pertaining to one of seven protected areas by the Fair Housing Act: race, color, religion, sex, disability, familial status or national origin.
17. Share Words of Wisdom.
First time home buyers are often caught unaware of the extra bills new homeownership can introduce. Make sure your first time buyers are aware of the costs associated with lawn maintenance, monthly HOAs (if applicable), property taxes and homeowners insurance, not to mention costs associated with the maintenance and any repairs to the home.
Here's a First Time Home Buyer's Checklist to help further prepare your client for the challenges – and opportunities – ahead.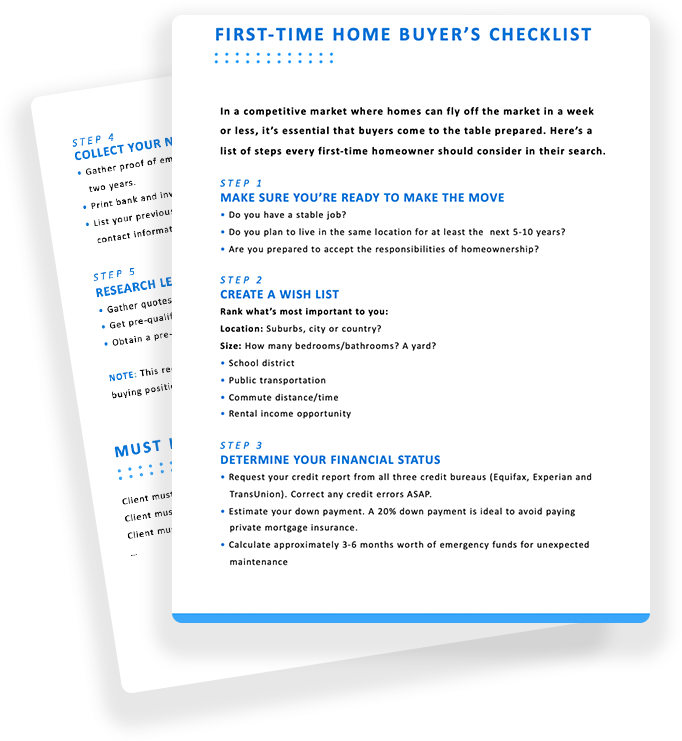 FREE:

First Time Homebuyers Checklist

Download, customize and share this checklist with your first time buying clients to help them navigate the process and get their home. (Note: Downloads as a PowerPoint file)