Real Estate Hiring Guide: In-House vs. Outsourced Transaction Coordinators
Real Estate Experts Share Tips on How to Choose Between Hiring an In-House or Outsourced Independent Transaction Coordinator
The shift in today's remote-based workforce, coupled with the explosive demand for real estate over the past two years, has caused a significant uptick in the need for both in-house and outsourced independent transaction coordinators.
Indeed, in a market with many listings under contract within a week or sooner, it's not surprising that more transaction coordinators are in demand and getting in the game.
Consider Level – Virtual Specialists, a virtual assistant recruiting agency that was hiring an average 6-8 transaction coordinators a month pre-pandemic, lost 30% of its business in the beginning of 2020, tripled its net growth by September 2020 and is now holding steady at double its initial rate.
"By mid 2020, we were exceeding growth and hiring at a rate that has never been seen and hasn't stopped since," says founder and CEO Clint Muhlenberg.
Many transaction coordinators got laid off in early 2020 while others, fearing imminent layoffs, left their roles altogether, he says. Today, brokerages, teams and outsource agencies can't staff transaction coordinators fast enough.
So as an office manager, broker, transaction coordinator or real estate agent, how do you choose between an in-house transaction coordinator role or outsourcing as an independent contractor?
Truth is, there is no one-size-fits-all approach, but there are definite pros and cons of each.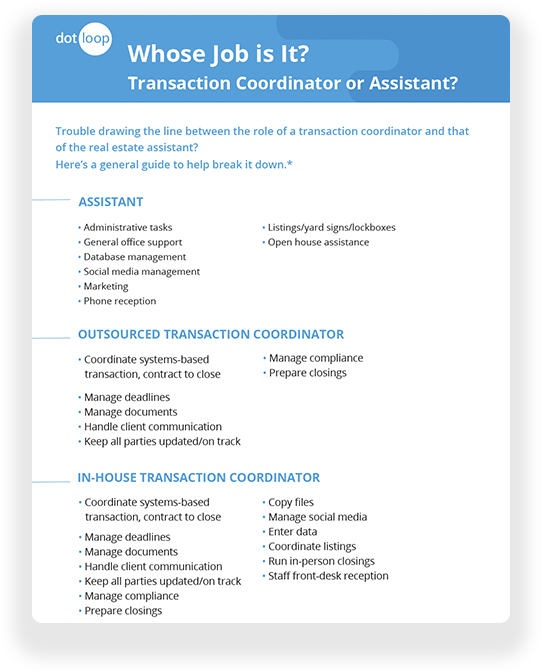 FREE CHEATSHEET:


Whose Job Is It? Transaction Coordinator or Assistant?

Trouble drawing the line between the role of a transaction coordinator and that of a real estate assistant? This free cheatsheet breaks it down for you.
Pros and Cons of In-House Transaction Coordinators and Outsourced Independent Transaction Coordinators
W2 or 1099 – Add Up the Cost
Most in-house transaction coordinators are a W2 employee, so their salary and benefits carry set, predictable costs; whereas, independent transaction coordinators carry little to no overhead expenses – agents and brokerages pay on an as-needed, per-transaction basis.
So the first question agents and brokers will want to ask is how many deals are they averaging every month. At some point, the per-transaction fee, which typically ranges from $300 to $600, will hit a point of diminishing return.
For example, if an in-house transaction coordinator makes $50,000 a year, and an outsourced independent contractor charges $400/transaction, but the agent starts closing more than 11 transactions a month, the cost of hiring an outsourced independent transaction coordinators will become increasingly less cost-efficient:
11+ transactions/month = $50,000/yr. fixed salary + benefits + taxes
11 transactions/month x $400 = $4,400 x 12 (months) = $52,800
12 transactions/month x $400 = $4,800 x 12 (months) = $57,600
At RE/MAX Concepts in Iowa, Director of Operations Jaimee Moore says in-house transaction coordinators actually save the agents money since the brokerage provides them as part of their expenses and sellers pay any seller admin fees as part of their closing costs.
Yet, for smaller teams or individual agents, the cost of providing a competitive salary plus benefits may make it more difficult to find qualified applicants, notes Alexandra Marsolais, owner and CEO of Home Free Transaction Coordinators (formerly Minnesota Transaction Coordinators), a third-party independent transaction coordination company that has closed 7,000 transactions with nearly 20 teammates to date.
Work Coverage in Case of Absence
Of course, when the in-house transaction coordinator is out of office or business slows, the office is still on the hook for paying their pay and other overhead expenses.
"If you're left without coverage while they're sick, on vacation, on parental leave, and on nights and weekends or if business slows down, you still have those overhead expenses," reminds Marsolais.
Turnover, too, can pose a real concern, especially in light of low unemployment rates and highly competitive wages.
"Many small teams or individual agents are not set up to provide as many benefits, so it can be more difficult to find a qualified applicant who's interested in joining the organization," Marsolais says.
Well-staffed independent contractor agencies can help by filling the absences with experienced transaction coordinators who can manage the transaction contract to close.
New to dotloop?
Half a million active agents and over 10,000 Brokerages and Teams close more deals faster using dotloop, the leading transaction management software for real estate professionals.
Control and Customization
By hiring an in-house transaction coordinator, most agree that a real estate office has more influence over the transaction management systems used by their in-house transaction coordinators and the manner in which they complete the work.
"We have control over hiring people that fit the RE/MAX culture and understand that the agent is always the client and that the transaction coordinator does whatever they can to help them," says Moore of RE/MAX Concepts, where four in-house transaction coordinators assist a pool of approximately 300+ agents.
With outsourced contractors, on the other hand, there's typically less customization of processes and the transaction coordinator is less likely to use the agent's branding, email address or even the same transaction management system.
Managing Ancillary Services
While outsourced transaction coordinators have a "box of services" such as opening escrow, handling client communication and setting up inspections, in-house transaction coordinators will typically handle a greater scope of services, such as copying files, managing social media, entering data, coordinating listings, running in-person closings and staffing the front-desk reception, Muhlenberg notes.
According to Moore, having in-house transaction coordinators provides a great convenience to their agents. "Instead of having to turn in the transaction to our office and send the paperwork to a third-party coordinator, they just submit it to our office and we review it and take it from there to make sure it goes smoothly all the way to closing," says Moore.
From the transaction coordinator's perspective, independent contractors may be less subject to the frequent pivots in-house work requires and have more control over the number of agents and transactions they serve.
"Being in-house, there can be more of a shift in focus," says Davies. "In the brokerage, I can be working on a file and then have to help an agent on something else, so I may be pulled in different directions on any given day."
Agent and Transaction Coordinator Communication
In-house transaction coordinators and agents who are still working in an office environment tend to have better communication than those working with outsourced, remote operators. For Moore, that means "not just in-person conversations but all company communication, whether that be email, Google chat or phone," she says.
Brent Davies, an admin for CENTURY 21 Professional Group, Ocoee, FL, is one of two in-house admins who enter MLS data, open and close the office, upload photos and handle all client communication for 61 full-time and part-time agents.
From his experience, being in-house allows admins and transaction coordinators to have a closer familiarity with the brokerage's processes and stay up on training with any changes that may arise.
"While there are no 'real estate emergencies,'" he says, "there is sometimes the need for direct instant communication. It makes the workload easier. If we didn't have a brick and mortar location, we wouldn't have that direct communication."
The biggest difference for Davies, he says, is the learning curve. "The in-house learning curve is much easier and shorter than remote. With remote, you don't see the day-to-day operations and have to learn that through the transaction as you go."
Contract-to-Close Expertise
While an outsourced independent transaction coordinator may not use an agent's favored real estate transaction coordinator software or come with pre-set knowledge of an office's specific processes, many come equipped with ready-made transactional expertise.
"These are people you can just say, 'Take this contract and run with it," says Muhlenberg. "Different independents offer different packages, but consistently, they are experts."
As transaction coordinators increasingly become the transaction expert, Muhlenberg says automated tech tools such as dotloop for Teams and dotloop's Business+ real estate transaction software, which automate Tasks and Templates and compliance workflows, will become increasingly more helpful.
"Automation is where things are going," says Muhlenberg. "The transaction coordinator is going to become the knowledge-based transaction expert with automation tools that take care of the rest."
A Final Note
W2 and 1099 Payment Practices
Agents and brokers who are treating their in-house transaction coordinators as W2 employees but paying them as if they're 1099 independent contractors need to be aware of the legal implications this IRS violation can cause.
"There are many businesses who hire someone and treat them as a W2 employee but only pay them as a 1099 independent contractor," says Marsolais. "Not understanding employment law or not having an attorney to help guide you through employment law is a huge problem in our industry."
To ensure you're operating within a legal framework, consult the IRS' guidelines to distinguish between an independent contractor versus an employee or talk to an attorney who can help.