8 Predictions About the Post-Pandemic Future of Real Estate
Insiders Ponder COVID-19's Long-term Impact on the Industry
Long before COVID-19 hit, there was a day when clients signed a carbon copy contract with a blue pen to ink the deal and a time when you hoped your associate locked the filing cabinet before leaving the office at night.
eSignatures have replaced the carbon and filing cabinet with a more secure digital paper trail over the years, and video has all but replaced the open house virtually overnight since the pandemic rewrote the "new normal" for real estate.
But for many long-time agents, those early ways of doing business left a lasting impression of how not to do the deal.
The more successful real estate agents and brokers have adopted the changing technology, trading the carbon copy for the fax machine and endless emails for the complete digital transaction management software. Their tech adoption has given them an advantage in facing today's pandemic.
Recently, agents, brokers, trainers and integration partners pondered the long-term impact COVID-19 will have on real estate. From the virtual listing presentation and weekly internal meeting to the transaction and closing, dotloop identifies their top eight predictions here.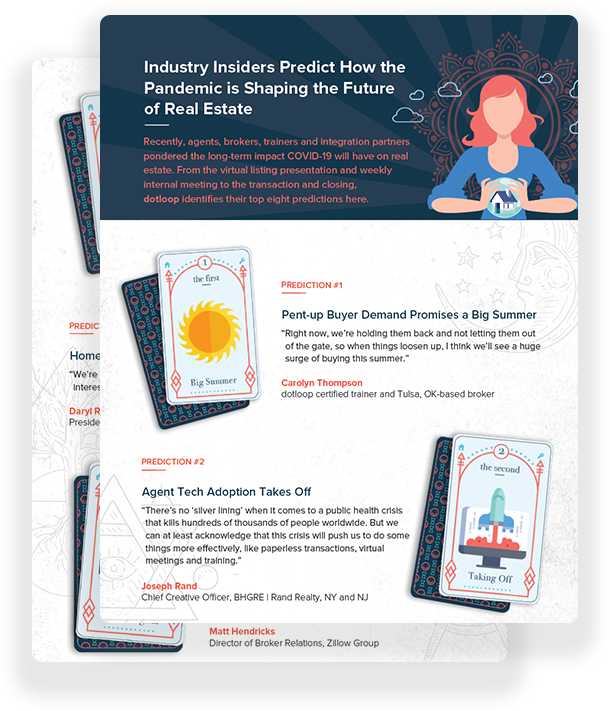 Key Takeaways: How Pandemic is Shaping Real Estate's Future
Download the top takeaways and soundbites from industry insiders on where real estate is heading.
While government shelter-in-place orders shut down open houses in March and April, everyone from the millennial forced to quarantine in her Manhattan studio apartment to the homeowner seeking new environs in the rural outskirts of San Francisco are finding new motivation to move.

Right now, we're holding them back and not letting them out of the gate, so when things loosen up, I think we'll see a huge surge of buying this summer.

Carolyn Thompson
Broker/dotloop Certified Trainer
Keller Williams Realty Local
Tulsa, OK
Most experts expect homes to hold their value. Unlike the Great Recession of 2008, sellers won't have to reduce their asking price of 40% or even 20% as in the past, says Zillow Director of Broker Relations Matt Hendricks. Inventory is expected to remain low, and listers will remain in a good position to entertain offers from qualifying buyers lured by the low interest rates, while first-time homebuyers may stumble with the low inventory and tighter lending constraints.
As one point in which everyone agrees, real estate pros will either need to embrace the new tech demands imposed by this age of social distancing or risk being left behind.

We can look at this as an obstacle or an opportunity. If your mindset is, 'I'm in charge of my future,' rather than wait for someone to guide your future, there's a tremendous difference in the outcome.

Michele Carter
Broker
Coldwell Banker Real Estate Group
Joliet, IL
Agents who once resisted using video to market or show a property have stepped out of their comfort zones and are now joining the league of real estate's tech adopters. Chris Manteria, Associate Broker, Century 21 American Homes, Merrick, NY, has seen greater engagement on social media platforms, while Carter has found that agents who never before logged in to a transaction management platform like dotloop are now transacting digitally and hosting live Facebook events and video tours.
Ashley Dane, Regional Director of Technology, RE/MAX of Michigan, Portage, MI, agrees, noting that Michigan's "Stay Home, Stay Safe" order "accomplished more tech adoption in six weeks than brokers have been able to accomplish with agents over the span of years. It proves that anyone of any skill set can evolve," she says.
More agents are using Zoom, BlueJeans and other teleconferencing tools to communicate with clients and associates across brokerages. They're trading paper checks for digital earnest money platforms like Earnnest.com and virtual video closings for the in-person meeting around a table.

You'll see the year 2020 as the greatest year of adoption. It will affect real estate more than other industries.

Craig McClelland
COO
BHGRE Metro Brokers
Atlanta, GA
"All this regulation has loosened up now and adoption is on a fast trajectory. It will be hard to pull back. It's like the kid who you let unwrap the gift early. You can't take it back," says McClelland.
While fear of change has typically barred the real estate industry from fully embracing technology, the COVID-19 pandemic has provided the catalyst to effect real change.

There's no 'silver lining' when it comes to a public health crisis that kills hundreds of thousands of people worldwide. But we can at least acknowledge that this crisis will push us to do some things more effectively, like paperless transactions, virtual meetings and training.

Joseph Rand
Chief Creative Officer
BHGRE Rand Realty
New York and New Jersey
For years, consumer demand for digital solutions have influenced a wide range of industries, from ridesharing to mortgage lending.
"They're already signing digital agreements for their divorces and wills," says McClelland. "They're already investing in their 401(k)s from a 6-inch screen on their phones. Consumers are demanding that you meet them where they are."
While real estate has been slower than most industries to adopt digital tools, that will change with today's health crisis accelerating both consumer demand for digital options and agents experimenting with new tech out of necessity.
Southern California-based Active Realty and Zillow Premier Agent Suzanne Seini says buyers and sellers will expect virtual tours and all forms of online transacting as we move forward into the future. "It becomes then a competition to create engaging content and virtual presentations that consumers will interact with as they would a traditional open house or listing presentation," says Seini.
When agents are still asking their clients to procure a certified check for their earnest money or to come to the title office to close, consumers will increasingly find these traditional ways frustrating and pave the way for more tech apps like dotloop, Earnnest.com and Notarize.com to fill in the gaps along the digital transaction continuum.
In the wake of the pandemic, more buyers are expected to change their migratory patterns. Already, urban dwellers are sending signals that they're setting their sights on more spacious quarters in the outlying suburbs and rural areas.
Consider Daryl Rogers, president of Roseville, CA-based Better Homes and Gardens RE | Reliance Partners, who, four weeks before the pandemic's onset, conducted a training series showing how many people were ditching their cars and moving to the cities in favor of mass transportation, shops and restaurants within walking distance.
"Ninety days later, that theory is completely wrong," says Rogers, who's based about three hours east of the San Francisco Bay Area. "We're getting so many people from the Bay Area showing interest in these outlying rural areas."
While New York's Rand doesn't see a huge exodus of Northeastern city dwellers moving to these outlying areas, he does see more people looking for second home getaways. "We certainly saw a lot of short-term rentals going everywhere in the tri-state metro area from people trying to get out of Manhattan in March and April," he says.
The need to shelter in place has also triggered a movement toward larger living spaces. In Miami, Vera Realty broker Nick Polyushkin expects to see more listings from condo dwellers, who have been subject to tight building restrictions around visitation policies and gym closures.
Those listings may also increase with the uncertain economy in South Florida where many cruise lines are headquartered and tourism accounts for a large portion of the state's revenue. All considered, Polyushkin predicts a dip in jobs and a rise in foreclosures, ushering in a new influx of offshore investors, around Q3/Q4 2020.
Since the onset of the COVID-19 crisis, video engagement has increased dramatically across all industry sectors, but it's had a significant impact on real estate. After discovering how many more people they can reach with these virtual resources, agents are embracing the use of everything virtual from video and 3D tours to small drones that can scan the interior of a home.

While video was once an 'optional currency,' it's now essential to agent communication.

Lee Davenport
Real estate Coach and Consultant
Learn With Dr. Lee
Atlanta, GA
Most concur that the teleconference will replace the in-person internal meeting or listing presentation, while the virtual tour will be used more to complement the live showing.
As Cincinnati-based agent Amy Broghamer of Amy B. Real Estate points out, virtual tours provide a tool to preview the listing, giving buyers more information upfront while affording sellers less human contact in the sale of their homes.
"Buyers will be able to eliminate houses that don't fit their needs at a higher rate using this virtual reality," adds Casey Bryan, CCO | Regional Market President, BHHS | Florida Properties Group, Valrico, FL. "Sellers will experience less showings, but those showings will be from people with high interest. That said, many people will still want to walk through the front doors of a house and envision it as their sanctuary."
Veronica Figueroa, CEO of Figueroa Team, eXp Realty, Orlando, FL, quickly mobilized her team to produce a new crop of virtual open houses via her new "Fig Team TV Virtual Open House/Showing Channel" on YouTube. "Why didn't we do this before?" she says. "Now these open houses are virtual and will live forever, even after the home closes to showcase our agents, our culture and the area — not just the house."
Pre-approval letters are also expected to grow in popularity as another preliminary step that must be completed before an in-person showing can occur. Chantelle Limon of RE/MAX Integrity, Camarillo, CA, sees the pre-approval letter "now king" as listing agents at all price points likely require proof of funds to schedule a property showing.
Due to the current in-person restrictions, agents at BHHS, Homesale Realty, have been leveraging Zoom to host virtual buyer consultations and invite loan officers to join the session to work through pre-approvals with the clients via video, says Homesale's Jen Jones, VP of Career Development.
Digital lending, notaries and title closings will also become more streamlined in the virtual process as government regulations succumb to consumer and agent demand.
For several years, mortgage lending has gone digital with Lending Tree, Rocket Mortgage and others offering loan pre-approval at the click of a button. But now that COVID-19 has taken the real estate transaction online, the days of sitting down at a table across from a mortgage officer may be long gone.
"The mortgage and closing industry has clung to paper, but that is falling by the wayside. I did several entirely digital closings in April. Many brokers and agents did not believe Zoom and other online services would allow them to conduct their business virtually. Now, we know it can, and that changes everything," says Bruce Ailion, Realtor and Attorney, RE/MAX Town & Country, Atlanta, GA.
When shelter-in-place orders shut down title offices, agents in some states were forced to find creative means for closing deals, including the use of videotaped inspections, remote notaries and digital earnest money transfer platforms.
In the early days of the pandemic, for example, Coldwell Banker's Real Estate Group's title company quickly implemented a curbside title closing in Wisconsin, in which the attorney, the buyers and the sellers each showed up in their own separate vehicles while the title officer notarized their documents.
As tech ramps up in these areas, facial recognition or even virtual fingerprints could clear the way for contactless notaries.
"Whereas before everyone would show up at the title company, now the use of remote notaries and other types of technological innovations have allowed for people to still close on a transaction while maintaining a safe distance," says Hagen Kuhl, The Kuhl Team at Ascent Realty Colorado LLC.

Are we going to see a need for digital notaries and more efficient closings? Absolutely. Everything we're looking at is going to be digital. Once people get used to it, you can't put that away. It's a Pandora's box.

Matt Hendricks
Director of Broker Relations
Zillow Group
Seattle, WA
Early on in the pandemic, brokers scrambled to bring more robust communication and training online to their agents and support staff, with many seeing an uptick in classroom and weekly meeting attendance.
Rand expects online forums, which comprised about 20% of 2019 training, to increase to 80% of training by 2021.
Continuing education (CE) training may also see a new trend toward online learning, though such a change will require more regulation changes at the state level and more interactive training curriculum.
"That's the key. Just sitting down and watching a video is not going to cut it. Also, for a class to be approved for CE credits, each state has to approve different things. Some states approve the class and instructors. Some just approve the class, while others just approve the instructor," says dotloop certified trainer Thompson. "That will be a long process because we have to apply for each state."
With social distancing making buyers and sellers hyper aware of potential health risks, many industry observers predict iBuying will only rise in popularity among consumers.

I believe iBuying is most likely here to stay in some form or another. A lot of big nationals may be a bit more selective, but most markets have very local and knowledgeable cash buyers who may be interested in quick sales.

Jim D'Amico
President/CEO
C21 North East
Danvers, MA
In addition to avoiding crowded open houses, many consumers will view iBuying favorably for its easy, convenient closing process.
"iBuying is going to come back and come back big and strong," says McClelland, who projects market share to comprise 15% to 20% in some urban markets.
Rogers agrees that more sellers will be open to dealing with iBuyers. "I think that shocked everyone how more sellers were willing to take less money and give up $20,000 to sell their houses fast. But think about the family who inherits a house and the four kids live out of state and can't agree on things, so they say, 'No, let's sell it to Zillow.' In this era of low inventory, it may be a huge thing for a seller to give up $20,000, but it also may allow them to make a full offer on another house," says Rogers.
Like agents, brokers too are shifting their training, reporting and onboarding procedures.

People will gravitate toward brokerages who provide the services and support to navigate this unusual time. There will still be a need for the traditional brokerage for knowledge and expertise, but the message will be delivered differently. Companies with virtual platforms will play a larger part in supporting agents.

Candace Adams
CEO & President
BHHS New England, NY and Westchester Properties
Wallingford, CT
In many cases, brokers have seen record attendance at their new virtual weekly meetings. "Since we've been doing Zoom meetings, we're easily averaging 200 agents on these calls, and we've been able to get to know people better because we've been able to have more meetings," says Rogers.
Virtual training and sales meetings have reduced many brokerages' need for their own square footage, adds Mike Pappas, CEO/President of Florida-based The Keyes Company/Illustrated Properties.
As they review the relevancy of their brick-and-mortar offices, brokers are under increasing pressure to provide greater working efficiencies for their agents and admins.
Casey Reagan, CSO and Co-Founder of dotloop transaction partner reeazily, reports a huge interest in digital payment platforms. "Offices who have been contemplating adopting those are taking action as agents are now willing to adopt," he says.
In addition, virtual transaction platforms are helping brokerages onboard new agents in this hyperdigital age of real estate. Since the beginning of the pandemic, Polyushkin onboarded two new agents using his digital transaction management system. "We processed all the documents and the hiring package was signed remotely using dotloop," he says. "Without dotloop, that would not have been possible."
As agents and admins move to a home-based operation, Donny Samson, COO of Samson Properties, Chantilly, VA, expects his brokerage to enjoy greater flexibility and wider options for future employment.
Despite all of these changes facing today's agents and brokers, the greatest outcome for the real estate industry in the wake of the COVID-19 pandemic remains agent adoption.
"Hopefully, in the near future, when COVID-19 is a bad memory," says Greg Sanders, CEO of REaltyOneGroup Edge, Woodstock, GA, "I expect we will reflect on how this pandemic pushed the real estate industry to catch up with other industries."
Claudia Martinez of dotloop integration partner Piesync from Hubspot agrees."Covid-19 is making us look at digital solutions in a new way. Videos, mobile notaries and digital transacting tools went from being convenient to be necessary. I think that perception will stay with Realtors over time. It has never been clearer, these tools truly allow you to build relationships and run your business wherever you are."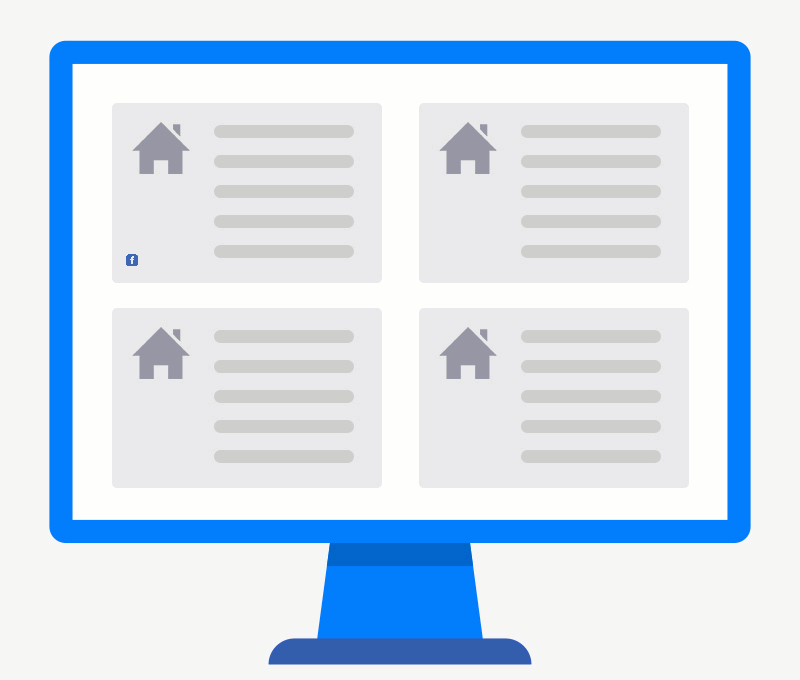 Did you know you can tag and track lead sources with dotloop?
With dotloop Business+ and dotloop for Teams you can easily tag transactions with the lead source to create reports that tell you which channels are generating quality leads.