Dotloop DMCA Procedure
DMCA Procedure
dotloop, Inc. ("dotloop," "we" or "our") respects the intellectual property rights of others and we expect our users to do the same.
Consistent with the Digital Millennium Copyright Act of 1998, we will respond promptly to claims of copyright infringement committed using our websites and services (the "Services") if the claims comply with the law and are properly reported to our Designated Agent.
Our Designated Agent is:
By mail:
Dotloop, Inc.
535 Mission Street, Suite 700
San Francisco, CA 94105
Attn: Copyright Agent
By email: DMCA_notice_email@dotloop.com
By facsimile: (415) 462-5178
If you give notice of copyright infringement by text e-mail, we may begin investigating the alleged copyright infringement; however, we must receive your signed statement by mail or as an attachment to your e-mail before we are required to take any action.
If you are a copyright owner (or are authorized to act on behalf of one) please report alleged copyright infringements taking place on or through the Services by completing the following DMCA Notice of Alleged Infringement and delivering it to dotloop's Designated Agent.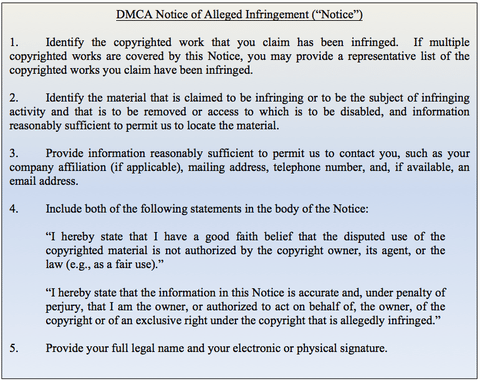 Upon receipt of the Notice, we will take whatever action, in our sole discretion, we deem appropriate.
In appropriate circumstances, we may terminate and/or disable the registration and/or subscription of persons suspected to be infringing the copyrights (or other intellectual property rights) of others. We also may remove or disable access to material on the Services that may be infringing or the subject of infringing activity.