Introducing a Faster, More Efficient Real Estate Compliance Process
The new dotloop 2.0 Admin Compliance Features More Precise, Contextual Messaging with Moveable "Sticky Notes," Color-coded Status Badges and More
There's a new cause for celebration among real estate admins everywhere – the new admin compliance process in dotloop has just launched in beta.
As part of the dotloop 2.0 feature offerings, the new Admin Compliance process recently went live for beta users testing the latest iteration of dotloop's transaction management system.
HOW-TO VIDEO
Dotloop 2.0 Admin Compliance
Check out the below support article for step-by-step instructions on how to use the new dotloop 2.0 Admin Compliance.
New Compliance Review Process Features
Previously, admins could send a note to the agent if they had questions or needed to return a document. Now, real estate admins can simply drag and drop a yellow "sticky note" to the precise location of the document to create a message that's directly in context of the section in question. In addition to tagging the submitter of the document, the admin can tag other admins or agents on the team or within a brokerage.
Once a note has been created by the reviewing admin, the agent or admin who submitted the document will automatically receive a notification and be able to view all active notes by toggling through the arrows on a preview screen. As the submitter flips through the notes on the preview screen, the adjacent document will scroll in sync, note to note. With this new feature, the submitter can click directly on a note to reply and resolve the issue.
Once all the messages have been resolved, the notes will disappear and hide from view, though admins can go to View All at any time to see a log of all active and resolved notes.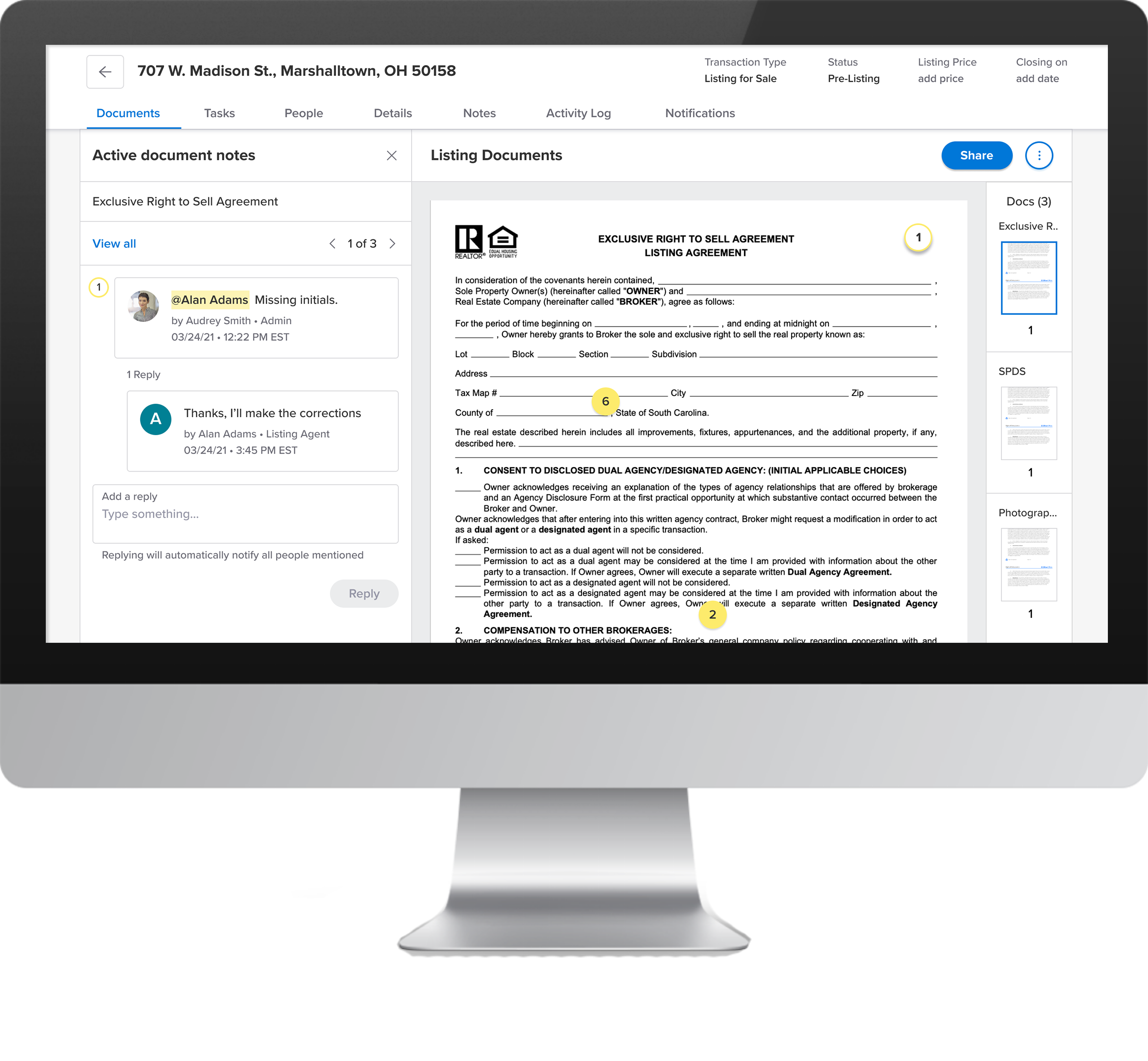 If you have not yet received an invite for dotloop 2.0, you can still request early access by joining the waitlist. Every week, we enroll more people to the experience.
While your folder-level review statuses will stay the same as before, dotloop 2.0's new Admin Compliance now features document-level review badges that are color-coded to easily identify whether a document has been returned, approved or still needs review. A light red badge identifies a document that has been returned; a green badge signifies an approved document; and a red badge reflects a document that still needs review.
Agents will see the same document-level review badges in their view of the loop, though they may also see a gray badge, signifying a document has been submitted and is in review.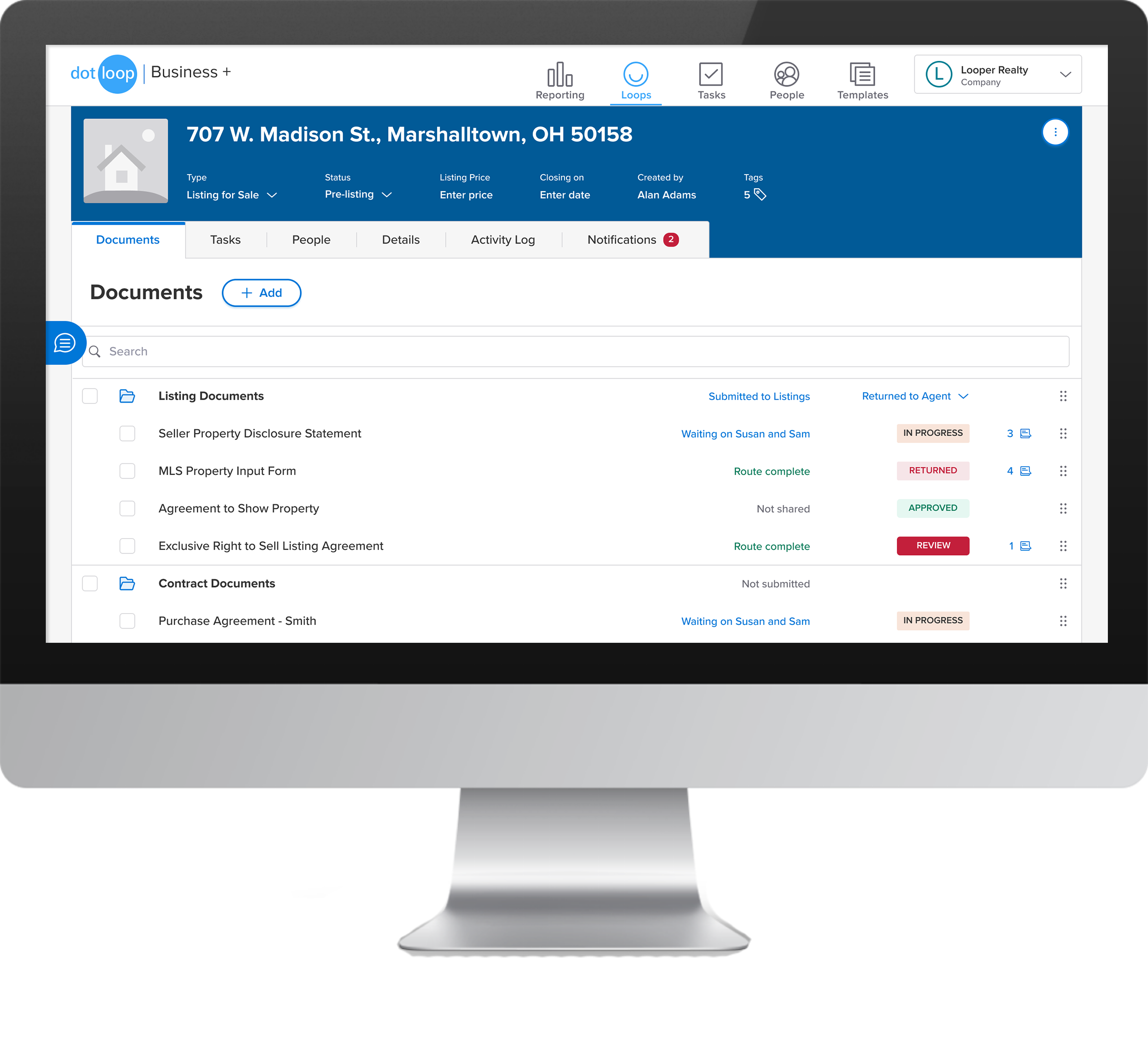 Another new feature now allows admins to preview a document directly within the Preview Pane without having to go to the Document Editor to review. Admins can simply review documents for compliance from a fast new compact view.
In addition to adding convenience, the new instant view pane provides another layer of security to prevent admins from inadvertently modifying a field in the document.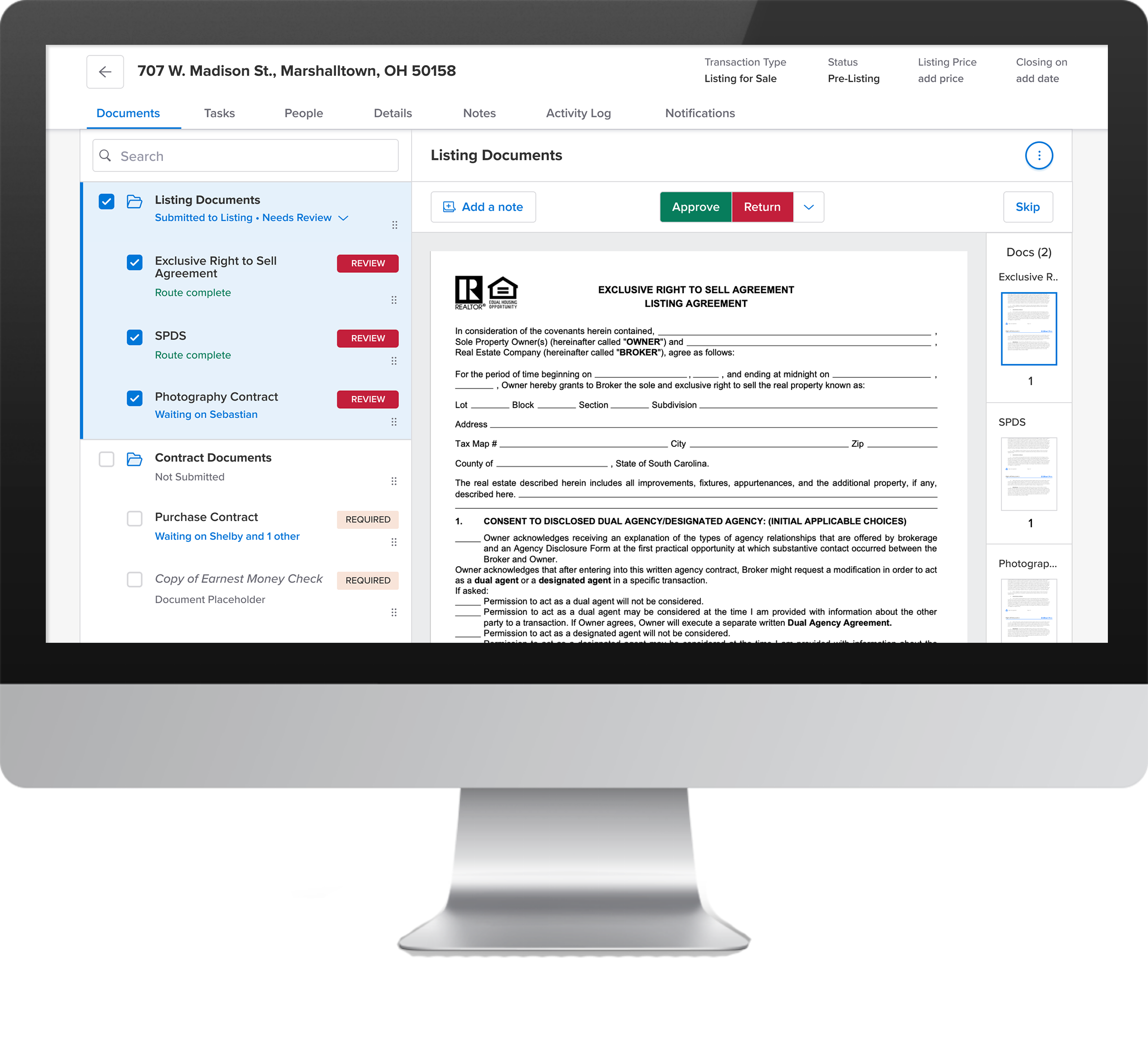 There are many instances when a document in a folder doesn't need to be checked for compliance, such as an inspection report. Therefore, dotloop has enhanced its Admin Compliance process to allow admins to choose a third option. In addition to "Approve" and "Return," admins can now select "No Review Needed."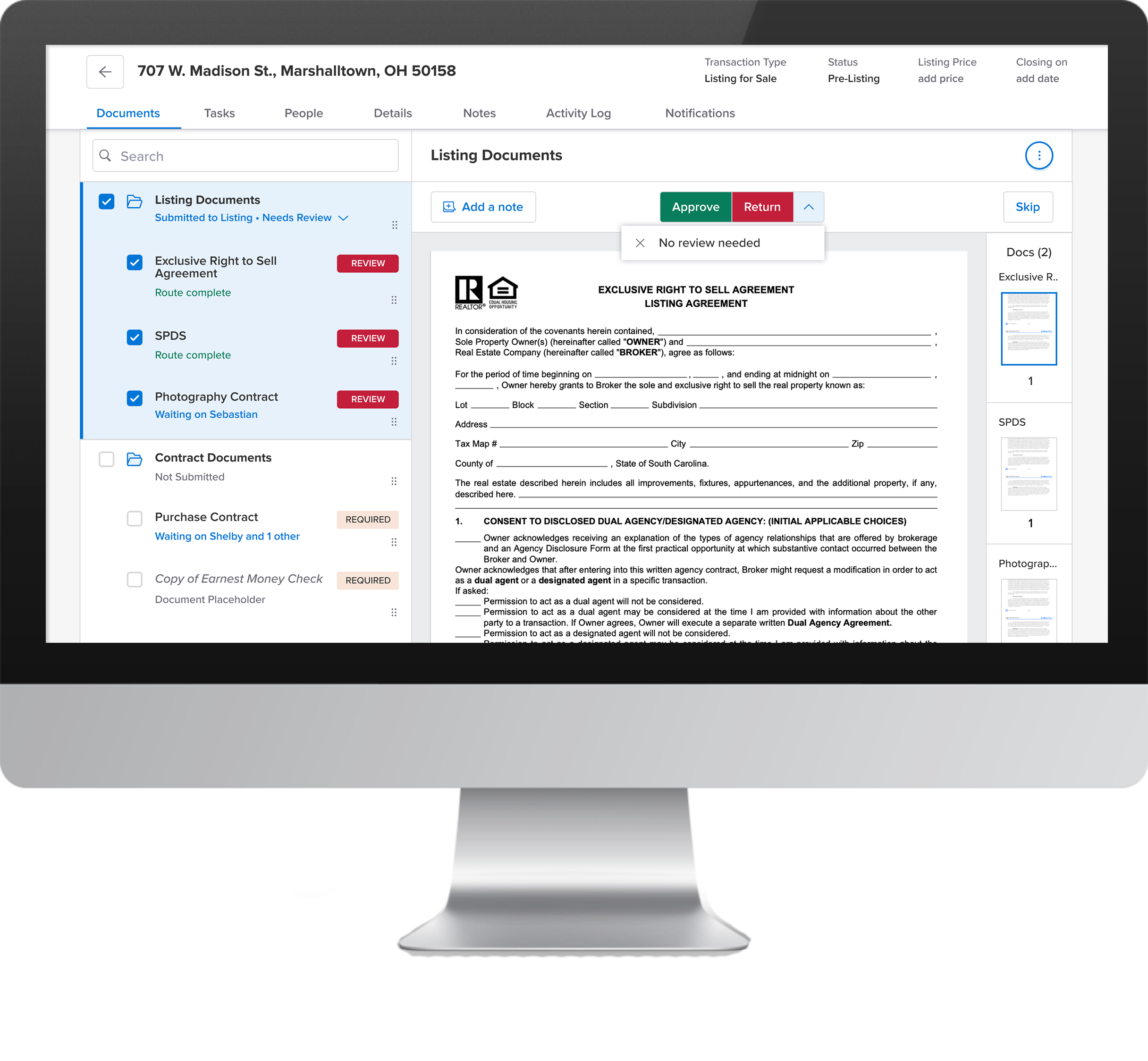 Admins who have marked a document to "Approve" or "Return" can now revert to the previous "Review" badge mode if, for example, the document needs to undergo further admin review.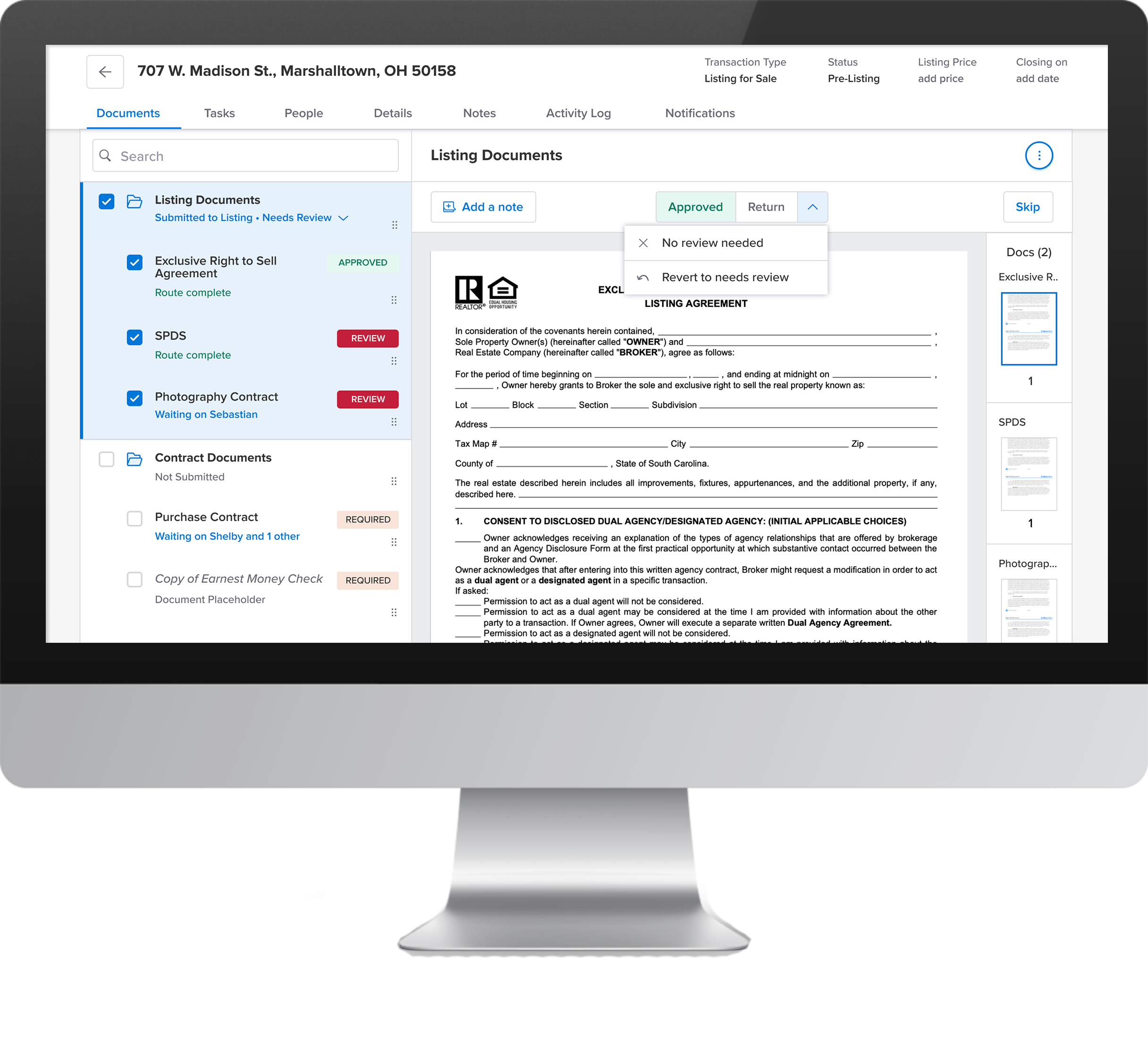 All of the above features, including "sticky notes," are responsive across devices, including mobile and tablets, to simplify time-sensitive deals and on-the-go reviews.
Got the Invite? Take Dotloop 2.0 for a Test-Drive
If you've already been invited to test-drive dotloop, simply follow the steps below. If you have not received an invite and would like to help shape the new dotloop through your feedback, make sure to request early access by joining the waitlist.
Step 1. Open or Create a Loop. Sign in to your dotloop account and open any existing transaction or create a new one.
Step 2. Flip the Switch. Once you're inside the transaction, toggle to the "Try out new view" switch in the yellow bar at the top of your screen.
Step 3. Share Feedback. As you explore dotloop's new transaction experience, make sure to share your feedback by clicking the link at the top of your screen.