Broker Recruiting Script Formats + 8 Sample Templates
Attract the Best Agents to Your Brokerage Using These Proven Recruiting Script Formats (+ 8 Sample Templates to Inspire You)
The channel in which you deliver your agent recruiting message should be dictated by the prospective agent's preferred communication form. But brokers aren't always privy to such knowledge, so you may have to experiment with a few different approaches. Each has their own pros, cons and formatting styles to consider.
Email remains one of the most effective means of reaching prospective agents, but there are rules, any of which could derail your best efforts:
Subject lines guard the email and, within mere seconds, will determine whether the viewer clicks or not. There's a plethora of dos and don'ts with subject lines, but here's the crash course: Keep the subject line short (41 or fewer characters) and pithy. Rather than "Can we talk?" maybe ask a specific question, like "Tom, not getting paid your full potential?" Instead of "Looking to Make a Switch?" try "Tracy, looking to reconnect."
As you can see, by using the prospect's first name in your subject line, you're more likely to grab their attention and ensure they click to open.
Emails that sound canned — like you copy/pasted from one prospect to the next — run a high risk of dying by deletion.
The key is to speak directly to your prospect. If you've had any interaction with the agent in the past, try to reference something that may stir a personal connection to "warm" the intro. Maybe they're a referral from an existing agent, or you might have met them at an open house. Referencing that first meeting or introduction will help the prospect place who you are and set your query into motion.
Sample Email:
Subject Line: Your Ears Must Be Burning!
Dear [PROSPECTIVE AGENT],
My agent [AGENT'S NAME] told me what a masterful job you did with managing and closing that transaction at [TRANSACTION ADDRESS]. I don't know how much you know about our brokerage, but many of our agents come for the commissions and stay for the training and support. We offer the best coaching and training programs in the area, bar none.
Would you have a free afternoon one day next week to swing by? I'd love to take you on a tour of the office and show you our new virtual media studio where we conduct many of our brokerage training sessions.
How does next Tuesday afternoon work for you? I'll call you tomorrow to follow-up.
Respectfully,
[YOUR NAME]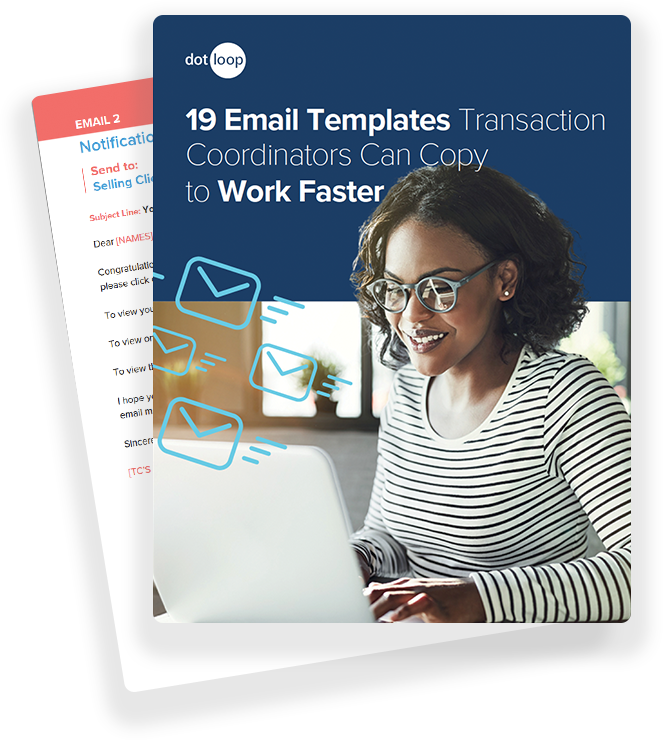 BONUS RESOURCE:


19 Transaction Coordinator Email Templates

Download this free resource which contains 19 email templates your transaction coordinator can copy, customize and use to speed-up client communications and transactions.
The key to standing out from a field of competing brokerages and to lure a top producer away from their current brokerage is to first identify the value prop that will resonate most with your prospect. A top tech stack with real estate broker software, great training, support, work/life balance, a higher commission, mobility within the brokerage — they're all possibilities. Your job is to discover what they prioritize and customize your email communication.
Sample Email:
Subject Line: Work/Life Out of Balance?
Dear [PROSPECTIVE AGENT],
Congratulations on the latest deal you worked with my agent [REFERRING AGENT'S NAME]. The results you've generated at [COMPETING BROKERAGE] are quite impressive. At our brokerage, we take pride in making sure our agents enjoy a healthy work/life balance, and I'd love to share more with you about how that works. Would you be free for a coffee next Wednesday morning, say around 9 a.m.?
Best Regards,
[YOUR NAME]
Define your value proposition upfront and concisely. Get to the point after your brief introduction and always make sure your call to action, whether it's to set up a meeting or a phone call, is "above the fold" — that is, the part of the email that's visible on screen without scrolling.
Speaking of strong calls to action, be specific about next steps. Rather than leave it open ended, propose a specific event, like coffee on Monday at a suggested time.
NOTE: Earlier this year, Apple released new iOS 15 Privacy features that would allow users to mask their IP address and block third parties from tracking email opens and other IP data. This may be of interest to brokers sending mass recruiting emails. HubSpot published an informative article that explains how this update could impact email marketers.
New to dotloop?
Half a million active agents and over 10,000 Brokerages and Teams close more deals faster using dotloop, the leading real estate transaction management software for top agents, teams and brokers.
The following agent recruiting scripts from Prospect Boomerang's Matt Vigh and Ben Spears are perfect for making a connection via text or in-person conversations.
Hey [RECRUIT], this is [YOUR NAME] with [COMPANY NAME]. Congratulations on the great job at [123 MAIN STREET] with [CURRENT AGENT] from my office. They said things went really well. I know you're busy and, as a thank you, I wanted to invite you to sample one of our [BUSINESS-BUILDING EVENTS].
Like I said, I know you're busy, so I will just text you the info, and I hope it helps you grow your business. Again, thanks for doing a great job, and I will follow up soon to see how the market is treating you.
NOTE: In the above scenario, you're delivering a benefit that's not necessarily branded to the business, so it's clear that you're leading with value first to the recruit and not around self-promotion.
Hey [RECRUIT], I just walked through an open house that my agent [AGENT'S NAME] is having and they mentioned that you were hosting one as well. They asked that I walk through your open house and give you the registration link for [AN UPCOMING EVENT]. They're going to be attending as well and thought you might want to reserve a seat. I know you're busy here at your open house, so I'll just text and email you the link.
Hey [RECRUIT]. This is [YOUR NAME]. I wanted to make a quick call because your name came up in a conversation this morning with [CURRENT AGENT], when we were talking about the upcoming training that several top producers are attending. [CURRENT AGENT] is excited to be attending and wanted me to invite you. I know you're super busy, but I promised them that I would text and email you the registration link in case you wanted to attend. Hopefully, we will get to see you there!
Hey [RECRUIT], I just wanted to check in with you to make sure everything's on track with your transition to my brokerage office. As you know from our conversation when you signed up, I registered you for [EVENT], which will be focusing on [BUSINESS VALUE]. Please don't hesitate to let any other agents you may know about the event so we can get them registered as quickly as possible.
Hey [VENDOR NAME], I want to thank you again for sponsoring our [EVENT]. To make sure you get as much value as possible out of the sponsorship, I wanted to see if there were any agents that you're doing business with who may be interested in attending as a VIP. I will start by calling them and letting them know you sponsored the event and ask if they would like to attend. Please let me know who they are and we will roll out the red carpet for them.
Hey [AGENT NAME], this is [YOUR NAME]. I wanted to reach out and invite you to the upcoming [EVENT] on behalf of my friend [VENDOR NAME] at [VENDOR COMPANY]. They are sponsoring the upcoming [EVENT] so that great agents from other companies like yourself can attend for free. I promised them I would send you the registration link. Please take a look and, hopefully, it's something you'll find interesting.