What does this mean for your business?
Download free eBook to learn more!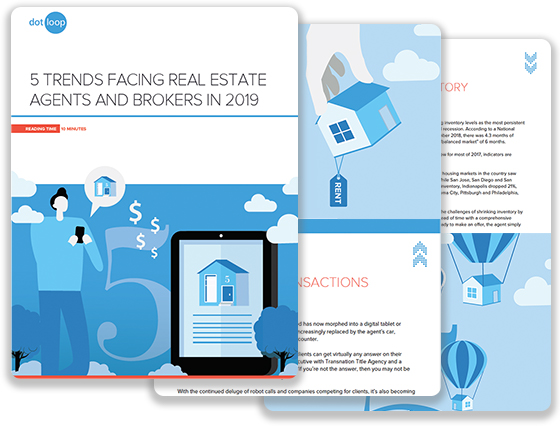 1. MOBILE-FIRST TRANSACTIONS
The "table" where real estate was once transacted has now morphed into a digital tablet or smartphone, and the "office" is being replaced by a coffee shop. More than ever, mobile-first communication is critical to today's agent.
2. RISING INDUSTRY RATES
Experts forecast the 30-year, fixed rate mortgage to reach as high as 5.5% in 2019 with rising rates expected to compound the still-climbing home values.
3. LOWER COMMISSION RATES
In 2018, 31% of sellers noted they tried to negotiate commission with their real estate agent with 18% succeeding and 13% receiving no change to the terms.
4. RISING RENTAL MARKET
For some would-be buyers, still out-of-reach home prices are expected to keep the rental market in the black, while steady investment in new multi-dwelling construction will keep that rent growth manageable.
5. FLUCTUATING INVENTORY
While home inventory levels nationwide remained low for most of 2017, indicators are showing signs of a coming shift in 2019.